Welcome to 2021!
Well, that first month of 2021 really flew by. Groundhog Day is right around the corner on February 2nd and that causes me to hope for more sun, warmer weather, and less winter. We have a new President and as with any new administration, we can expect adjustments to policies and the like regarding the transportation industry. We look forward to keeping you up to date on the industry-related happenings as they occur.
Don't forget Valentine's Day is February 14th!
CAB Live Training Sessions
Just a quick reminder that last month's sessions, VITAL+ Training and Grow your Business with SALEs™-Targeted Leads Generator were both recorded and are available for viewing at your leisure. If you were not able to attend in person, rest assured, we record all our Live Training Sessions and normally post them within 24 hours. They are available at the link below. Additionally, our complete library of recorded webinars are available in the Tools menu under Webinars or by clicking here. If you have a new hire or someone who wants to learn more or needs a refresher, This month we will present two new live training sessions:
Tuesday, February 9th @ 12p EST: Chad Krueger will present the topic: Compliance, Safety & Accountability. Understanding the CSA Scores. We are often asked for additional knowledge regarding CSA Scores and ISS Values. This session will help you identify and use CAB tools to better understand CSA data, what drives the scores, how to assess risks, and identify opportunities for improvement. Attend this session to maximize your knowledge and use of this great tool! Click here to register.
Tuesday, February 16th @ 12p EST: Mike Sevret will provide an Intro to CAB: Flow & Navigation. This focused session will provide an overview of the basic flow and navigation of the CAB website. This is a great starter session for a user that is new to CAB or is looking for a quick refresher. Click here to register.
CAB subscribers can register for either or both sessions from our Webinars page or by logging in and clicking the link below. https://subscriber.cabadvantage.com/webinars.cfm
We are looking forward to connecting with you during these sessions so don't hesitate to ask questions!
Follow us at CAB Linkedin Page CAB Facebook Page
CAB's Tips & Tricks: CAB List™ now includes great Equipment detail
This month's enhancement is available in CAB List™ via Carrier Health when you analyze all or part of the motor carriers included in your CAB List™. It is located in the table between HotZones and BASICs Statistics. This feature is designed to provide additional detail and insights on the equipment being operated by a group of motor carriers of your choosing. The table allows for analysis of the number of Power Units and Motor Carriers by Gross Vehicle Weight Rating (GVWR), Vehicle Type, Make & Model. Additionally, trailers can be analyzed as well.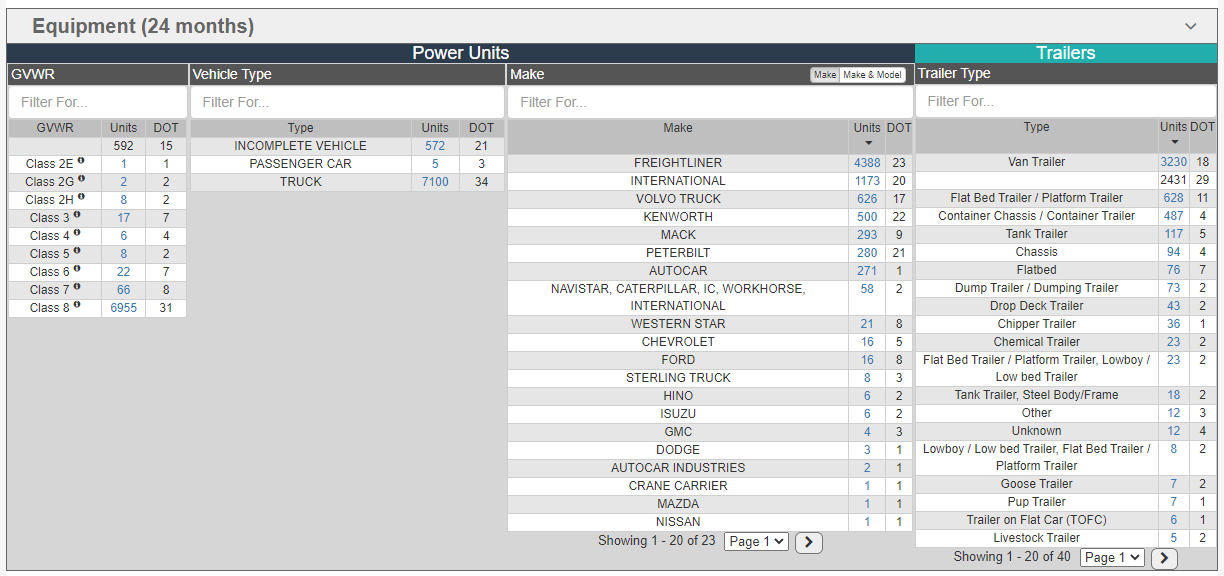 This tool can help you better understand the makeup of your insured fleets and answer questions like: What is the most common type of tractor operated by my book of business? Why are there so many chemical trailers in this class of business? The feature also allows you to filter by category as well.
As with all of our tools & enhancements, we strive to present the information in a manner that will help provide clarity and ease of use. The team at CAB is continually striving to improve our tools and resources to create value and efficiency for our users. Please feel free to contact us directly if you have any suggestions as to how we can enhance our services. We are customer-driven. Our goal is to help you Make Better Decisions!
THIS MONTH WE REPORT:
FMCSA wants Commercial Vehicle Safety Alliance Trained Personnel to Inspect Rear Underride Guards: It's hard to believe, but currently, roadside inspectors are not required to cite truck rear underride guards when damaged or loose. The proposal announced December 29th, if finalized, would require the check to become part of the CVSA CMV Inspector Process. The proposal will remove the subjectivity of the regulation and require a citation if the damage is observed. For more information on this proposed rule, click here.
Shipment Thefts are on the Rise. Here's an Example of How it Works: Houston man admits to hijacking interstate freight shipment: A 22-year-old Houston man, Maksims Klopovs admitted he was to be paid for picking up a large load of electronics originally set for delivery to a college. Authorities suspected a shipment of approximately $100,000 worth of computers and other electronics might be stolen. After the shipment left the warehouse in Illinois, someone had changed the delivery instructions using an online system. Rather than deliver it directly to Del Mar College, the shipping company was asked to hold the load at their Corpus Christi warehouse for pickup. Del Mar College did not request the change. Klopovs arrived at the warehouse driving a rented U-Haul truck. He presented a fraudulent Texas driver's license bearing his photo, a fraudulent Del Mar College ID card with the title of Operations Manager also bearing his photograph, and a Del Mar College business card all in the name of Martin Smith. Once Klopovs claimed the shipment and began to load the electronics into the rental truck the Authorities took him into custody. For more information, click here.
Inspection Selection System (ISS)-CAB Snapshot Date January 4, 2021: The first table shows, for each power unit range; the number of carriers with "safety" scores in the green, yellow, and red ranges, and the total number of carriers with a "safety" score or an "insufficient data" score. The second table shows the data as percentages, out of carriers with "safety" scores or out of all carriers as appropriate. ISS scores are as of the snapshot date listed above. A carrier's number of power units is from the most recent data we have for that carrier. Carriers with no or an unknown number of power units are not included.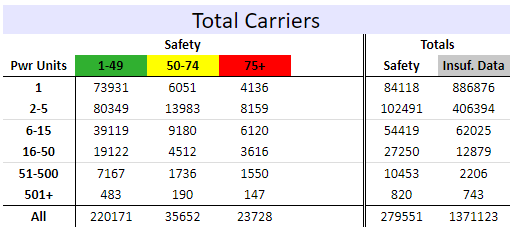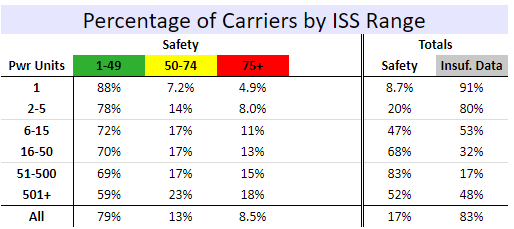 President's Executive Order Addresses Worker Protections from COVID-19: As part of the administration's efforts to slow the spread of COVID-19, President Joe Biden issued an Executive Order (EO) on January 21 addressing worker health and safety protections. Specific actions include: Determine if an Emergency Temporary Standard on COVID-19 is needed, and, if so, issue one by March 15, 2021. State-Plan states would have to do the same. Launch a national program to focus OSHA enforcement efforts related to COVID-19 on violations that put the largest number of workers at serious risk. Look for ways to cover state, county, and city government workers in non-State-Plan states, by using the Department of Transportation (DOT) (e.g., for highway work) and other Federal government agencies to help ensure protections. Review and strengthen all COVID-19 guidance documents OSHA issued for employers. For more information on the Executive Order, click here.
New Commercial Driver Panel Members Announced, will Focus on Critical CMV Safety Issues and Initiatives: The U.S. Department of Transportation's Federal Motor Carrier Safety Administrator (FMCSA) announced it has named 25 drivers from all sectors of the industry to serve as a new panel to the Agency's Motor Carrier Safety Advisory Committee (MCSAC) comprised of commercial motor vehicle (CMV) drivers. "FMCSA believes in listening to our drivers and hearing their concerns directly. We know that many of the solutions to the challenges we face don't come from Washington—they come from the hard-working men and women who are behind the wheel all over our nation. This new subcommittee to MCSAC will further help us hear from America's commercial drivers," said FMCSA Deputy Administrator Wiley Deck. This new panel will provide direct feedback to FMCSA on important issues facing the driving community—such as safety, hours-of-service regulations, training, parking, and driver experience. This new panel is comprised of 25 drivers from all sectors of the CMV industry—tractor trailer drivers, straight truck drivers, motor coach drivers, hazardous materials drivers, agriculture haulers, and more. For additional information on the MCSAC, click here.
FMCSA proposes guidance on the use of 'yard moves': FMCSA is proposing to revise the regulatory guidance concerning recording time operating a commercial motor vehicle as a "yard move." This guidance applies to all commercial motor vehicle (CMV) drivers required to record their hours of service. The Agency requests public comments on the proposed guidance, which includes examples of properties that are and are not "yards." Movements of CMVs in "yards" would be considered "yard moves" and could be recorded as on-duty not driving time rather than driving time. The proposal is open for comment through February 3, 2021, under docket number FMCSA–2020–0118. FMCSA is also asking if there should be more examples added and how "yard" should be defined. For more information on this proposal, click here.
Crash Prevention Determination Program (CPDP) Quarterly Statistics Published: As of December 18, 2020, just under 97% of CPDP Requests for Data Reviews (RDR) were determined to be Not Preventable. Based on the program, if a crash is determined to be Not Preventable, the crash weighting will be removed from the CRASH BASIC Calculation. During that time a total of 5515 CPDP RDRs were determined by the program. A total of 70 were confirmed Preventable and an additional 99 were Undecided. For additional statistical information, click here.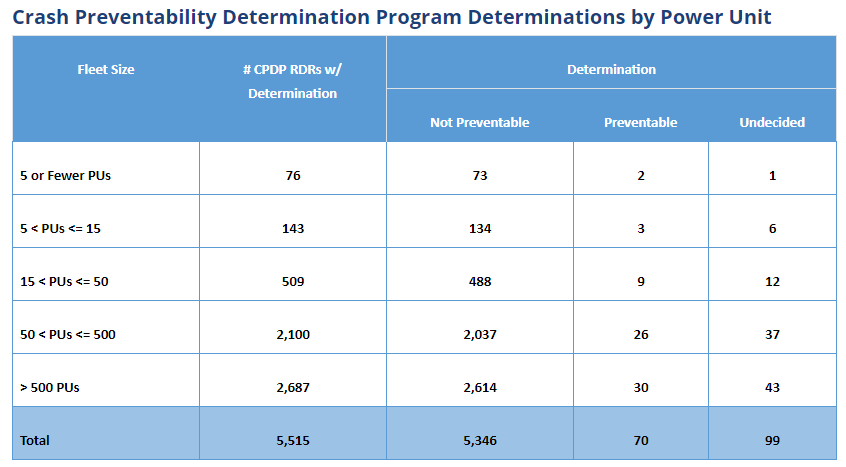 CASES
Commercial Auto
The fact that a truck driver had a license in one state was not sufficient to support the defendant's contention that he lived in that state when the tractor trailer was registered in a different state, the driver owned property in that state, his CDL application listed that state as his address and that was the state where probate was filed for his estate following the fatal accident. Diversity was lost and the case was remanded back to state court. Patterson v. Service Plus Transport, 2021 WL 71162
Keeping evidence out of the purview of the jury is often an issue for the defendant. The Eastern District of Louisiana agreed that the traffic citation issued against the driver could not be admitted as evidence as the plaintiff did not allege that the truck driver had pled guilty to the charge. The court also held that the driver's prior and subsequent accidents, and his criminal history could not be admitted as its probative value did not outweigh the prejudice the defendant would potentially suffer. Meyer v. Jencks, 2021 WL 184899
Although an insurer sought a declaration on whether it has a duty to defend or indemnify a motor carrier and the driver when the policies exclude coverage for accidents caused by using illegal drugs, and the driver was allegedly under the influence of illegal drugs at the time of the accident., that request was dismissed. The District Court in Utah weighed all of the relevant factors and concluded that it would not exercise its discretion to hear the case, telling the parties to see if all issues were ultimately resolved in the underlying personal injury case. Prime Insurance Co. v. GKD Management, LP, 2020 WL 7698789
When a truck driver opted for limited UM/UIM coverage under his commercial truck policy for his Peterbilt he was unable to seek additional coverage under another policy that he had for a second commercial dump truck. When that vehicle was over 40 miles away from the scene of the accident and he was standing next to the Peterbilt, which was being loaded at the time of the accident, he was not allowed to attach the dump truck's higher limit policy. Dove v AMCO Insurance Co., 2020 WL 7694474
The operator of a double parked vehicle could be liable for a fatal accident when a bicyclist was hit by a truck after swerving around the vehicle. The Appellate Division in New York denied summary judgement to that defendant. Dong v. Cruz-Marte, 2020 WL 7502425
The confusion which occurs when individuals operate more than one trucking company was addressed in the District Court in Colorado. This time the court agreed with the broker, granting summary judgment on claims of negligent brokering when the plaintiff sought to attach liability for negligent hiring based upon safety violations of a company related to the motor carrier engaged to transport the shipment. While that second company had numerous safety concerns, there were no relevant concerns for the actual motor carrier that transported the shipment. We just remind you that inter-related companies can often result in increased expenses and litigation costs, even if there is no liability. Courtney v. Class Transportation, 2021 WL 119331
The Eastern District in Kentucky concluded that a shipper would not be held liable for negligently selecting an "unfit broker" to transport its cargo or allowing an "unfit tractor trailer" to leave its premises with its cargo. The shipper was named as a defendant in a personal injury truck accident suit. Kentucky did not recognize a claim for negligent hiring of an independent contractor. Stapleton v Vicente, 2020 WL 7755125
While the defendant motor carrier may believe that the accident was a set-up, when it rear ended the plaintiff on the entrance ramp of a highway, the absence of any material evidence to support that contention resulted in summary judgement for the plaintiff on that issue. The Northern District in Illinois would not permit the defendant to amend the complaint either. Taylor v. Kilmer, 2021 WL 76828
A suit for recovery under the MCS-90 which was filed against a risk retention group which is now in liquidation was stayed by the Western District in Kentucky. The court concluded that while the claim was not preempted it was better to stay the action pending the Liquidation Court proceedings in Nevada. Gillett v. Spirit Commercial Auto RRG, 2020 WL 27475
When the plaintiff could not support any claim against a motor carrier for punitive damages based upon alleged negligent hiring, retention or supervision the Southern District of Georgia kicked the claim to the curb, as well as plaintiff's claims for attorney's fees and litigation expenses. Plaintiff could continue to assert a punitive damage claim against the driver. Moore v. Crawford, 2021 WL 27472
When a truck driver was driving his vehicle in the operation of a motor carrier, even if only to go buy new tires, he was not permitted to recover under the NTL policy for an uninsured claim. The Middle District in Louisiana concluded he was using the vehicle in the business of the motor carrier which was excluded under the NTL policy. Bell v. L&B Transport, LLC., 2021 WL 183451
The Second District Court in California upheld a defense verdict for a truck driver and his employer in a fatal bike-truck accident. The court rejected the plaintiff's arguments that the police officer should not have been permitted to testify and concluded that plaintiff had waived a right to request an alternative jury instruction when it failed to ask for that instruction at trial. Garcia v. Gray, 2021 WL 163900
In a highway fatality case in which the jury awarded $30 million for noneconomic damages against a parked truck, the Second Appellate District in California concluded that trial court erred in not allowing the jury to consider the comparative fault of some of the settling defendants. Under Proposition 51, the motor carrier was only responsible for its comparative percentage of fault for noneconomic damages. In addition the court held that plaintiffs' counsel engaged in prejudicial misconduct. by trying to impugn the integrity of defense counsel. The misconduct was too serious to be cured by an objection and admonition. The judgment was reversed on the amount of damages and apportionment of all defendants. Plascencia v. Deese, 2021 Cal. App. LEXIS 50
Interesting statute in Missouri. The Eastern District in Missouri refused judgment to the plaintiff on the affirmative defense of "no pay-no play" asserted by the defendant. Under Missouri law if you are driving a vehicle without insurance you may not recover non economic losses. if the defendant had insurance. The trucking company defendant asserted that to be true. Plaintiff contended that the statute was unconstitutional. The court held that discovery on the issue of the plaintiff's insurance status should be had before it would consider the issue. Ludwig v. Michael & Associates, 2021 WL 228938
When a corporation that frequently receives preservation letters takes absolutely no steps to preserve critical evidence (the "ECM") in response to a timely preservation letter and offers no explanation for its failure, the Superior Court in Delaware concluded that the motor carrier's actions were reckless. The court ordered that an adverse inference would be an appropriate sanction. The inference would be made that the black box would have shown that the driver failed to avoid the accident. The court also also awarded attorney's fees to the plaintiff. Tighe v. Castillo, 2021 WL 144241
The effort to avoid litigating a declaratory judgment action while the underlying personal injury action was proceeding failed in the District Court in New Mexico. The court concluded that it would not dismiss the truck insurer's request for a declaration that its policy exclusions for punitive damages, worker's compensation, employee liability, operations and medical payments defeated coverage for the motor carrier. It did however, dismiss the insurer's claim that the fellow employee exclusion was also applicable. Plaintiff would be required to proceed to litigate the coverage issues while separately litigating the liability elsewhere. United Financial Casualty Company v. Morales, 2021 WL 65557
Cargo
Cargo owner was not permitted to seek recovery against a truck repair facility for a cargo loss when there was a fire in the trailer which caused the cargo to be damaged. The District Court in Massachusetts held that repairing a front tire did not obligate the facility to diagnose an internal problem in a different part of the trailer. Claims and cross-claims against the repair facility were dismissed. Wood Hole Oceanographic Institution v. ATS, 2021 WL 220098
Although losing on most of the claims raised in this suit for recovery for cargo damages against a broker, the plaintiff was successful in keeping a breach of contract claim alive. The Court of Appeals in Ohio clarified that preempted "state law claims" do not include routine breach of contract claims and are instead limited to claims derived from state law that fall within the ambit of the Carmack Amendment. Plaintiff was left with only that cause of action, with no ability to amend further. C&D Trading, Inc. v. Total Quality Logistics, LLC., 2020 WL 7690310
Preemption again as the Western District of Washington allowed a plaintiff to amend a complaint to assert a Carmack claim for damage to his boat during interstate transport. Plaintiff was not permitted to assert claims for negligence or breach of contract, as those claims were preempted. Watson v. Moger, 2021 WL 243350
Thanks for joining us,
Jean & Chad