CAB Bits & Pieces March 2020
Carrying on during these unprecedented times.
We are all experiencing something unprecedented in most of our lifetimes with the current COVID-19 response. I imagine this is a small sample of what it was like during the early part of the 20th century when the world was grappling with The Great War, the Spanish Flu, The Great Depression and World War II. As I type this, my whole family is home either working, or going to grade school, high school or college online as we shelter in place. We are certainly some of the fortunate ones. During this time we at Central Analysis Bureau want you to know that we are working to ensure our systems are operating at peak performance for you, our valued customers. We continue with our innovation and enhancements to create additional value as well. If you have questions about our tools and resources, please do not hesitate to contact us.
Please do all you can to look out for your family and fellow employees. Additionally, if you see a trucker, thank a trucker. Our industry is certainly intertwined with the trucking companies and drivers that are coming through with flying colors in our national time of need. We pray for a quick end to this epidemic and a return to normalcy for everyone.
Thank you to America's Truck Drivers!
Live Training Sessions
Our live training sessions continue to have a great response from those that register and attend. This has encouraged us to do all we can to provide a good cross section of topics and tools. On Tuesday, April 14th, Mike Sevret will again be providing our initial training Intro to CAB: Flow & Navigation and on Tuesday, April 21st, Sean Gardner will be providing our CAB Focused Training: CAB List & Alerts. Our focused training will be shorter and last 30 minutes, as we know your time is important. Hopefully the country and industry will be getting back to normal by this time. You can register for either session from our Webinars page or by logging in and clicking this link https://subscriber.cabadvantage.com/webinars.cfm
Please feel free to suggest some focused training that you might want to see. We are looking forward to connecting with you during these sessions. Do not hesitate to ask questions!
Follow us at: CAB LinkedIn Page CAB Facebook Page
CAB's Tips & Tricks: BASICs Calculator: Equipment Tab
Our developers have been working on a number of enhancements that will allow you to better understand the equipment being operated and how those types of equipment are affecting the BASICs Scores. A new tab has been added to the BASICs Calculator named Equipment. This tab has numerous headings each of which can be used to sort the data. The headings include GVWR (or Class), Make, Model, Type, Units (#), Inspections (#), Crashes(#), Vehicle Maintenance (Total BASICs Point Weighting) and Points per Inspection (Pt/Insp). The color of the bar graph allows you to understand if the violations occurred in the last 6 months (red, BASICs multiplied by 3), 7-12 months (yellow, BASICs multiplied by 2) or 13-24 months (green, BASICs multiplied by 1).

As noted with the example above, the most BASICs points are assigned to the top line Volvo Truck, Model VNL, which averages 5.4 BASICs points per inspection, however the second line, Freightliner, Model M2 has over twice as many BASICs points assigned at 12.5 per inspection. Information is also available for all non-Pull Units (trailers) associated with the motor carrier, by toggling the Green PU (Pull Unit) switch. This is a great tool to identify if a model or vehicle type might be skewing the BASICs scores. This could identify potential issues related to the pre & post trip inspections, the preventative maintenance program or the specific model in general.
As with all of our enhancements, we strive to present the data in a manner that will help provide additional clarity. We at CAB are constantly striving to improve our tools and resources to create value for our users. Please feel free to contact us directly if you have any suggestions as to how we can enhance our services. We are customer driven. Our goal is to help you Make Better Decisions!
THIS MONTH WE REPORT:
US Department of Transportation Expands National Emergency Declaration for Commercial Vehicles Delivering Relief in Response to the Coronavirus Outbreak: On Wednesday, March 18, 2020 he U.S. Department of Transportation's Federal Motor Carrier Safety Administration (FMCSA) today issued an expanded national emergency declaration to provide hours-of-service regulatory relief to commercial vehicle drivers transporting emergency relief in response to the nationwide coronavirus (COVID-19) outbreak.FMCSA's expanded declaration provides for regulatory relief for commercial motor vehicle operations providing direct assistance supporting emergency relief efforts intended to meet immediate needs for products, equipment, material and personnel to combat the virus and its spread. To ensure continued safety on the nation's roadways, the emergency declaration stipulates that once a driver has completed his or her delivery, the driver must receive a minimum of 10 hours off duty if transporting property, and 8 hours if transporting passengers. FMCSA's emergency declaration is the first time the Agency has issued nation-wide relief and follows President Trump issuance of a national emergency declaration in response to the virus. For more information and to review the expanded emergency declaration, click here. All current Emergency Declarations, including a map, can be viewed here.
Below are the latest FAQs that relate to the FMCSA's Emergency Declarations
Frequently Asked Questions Related to the FMCSA Emergency Declaration 3/20/20
Frequently Asked Questions Related to the FMCSA Emergency Declaration Part 2: 3/25/20
The So Called 'Flexible' Hours of Service Final Rule submitted to White House: Early in March, Jim Mullen, The FMCSA's Acting Administrator announced that the agency was submitting the proposed changes and that the Final Rule was filed with the Office of Management and Budget (OMB) on Monday, March 2nd. The OMB now has 90 days to approve or reject the final rule. Once approved, the Final Rule can then be published in the Federal Register but it would likely be months or even years before the changes to HOS would go into effect. August of 2018 is when the FMCSA first started working on the regulation when it published an Advanced Notice of Proposed Rule Making and asked for public comment.
ISS-CAB Values by Total Carriers and Percentage of Carrier: Snapshot date is 3/9/20. Explanation: The first table shows, for each power unit range; the number of carriers with "safety" scores in the green, yellow, and red ranges, and the total number of carriers with a "safety" score or an "insufficient data" score. The second table shows the data as percentages, out of carriers with "safety" scores or out of all carriers as appropriate. ISS scores are as of the snapshot date listed at the top of the section. A carrier's number of power units is from the most recent data we have for that carrier. Carriers with no or unknown number of power units are not included.

DOT Drug & Alcohol Testing Disruptions Addressed During COVID-19: Motor carriers subject to DOT drug and alcohol testing under the Federal Motor Carrier Safety Administration (FMCSA) received guidance from the agency allowing for some flexibility until June 30, 2020, due to the COVID-19 pandemic. The COVID-19 national emergency has created disruptions that are interfering with, and often preventing, compliance with the drug and alcohol testing requirements. The FMCSA has provided the following guidance (in addition to ODAPC's notice) in respect to testing operators of commercial motor vehicles (CMVs) requiring commercial drivers' licenses (CDLs). Below are links to the most recent guidance issued by the FMCSA.
Below is additional guidance issued by the FMCSA Related to Drug & Alcohol Testing
DOT Guidance on Compliance with Drug and Alcohol Testing Regulations 3/23/20
DISRUPTIONS TO DRUG AND ALCOHOL TESTING DUE TO THE CORONAVIRUS DISEASE 2019 (COVID-19) PRESIDENTIALLY DECLARED NATIONAL EMERGENCY
Waivers granted for expired CDLs, CLPs, and medical cards: FMCSA grants, until June 30, 2020, a waiver from certain regulations applicable to interstate and intrastate commercial driver's license (CDL) and commercial learner's permit (CLP) holders and to other interstate drivers operating commercial motor vehicles (CMVs).Consistent with the requirements for waivers, FMCSA has determined that it is in the public interest to issue a waiver, limited in scope and circumstances, that is likely to achieve a level of safety that is equivalent to, or greater than, the level of safety that would be obtained in the absence of the waiver until June 30, 2020. For additional information on the waiver, click here.
ATRI & OOIDA Join Forces to Better Understand how COVID-19 is Impacting Trucking: The American Transportation Research Institute (ATRI) and the Owner-Operator Independent Driver Association Foundation (OOIDA Foundation) are conducting a joint research study to understand the numerous impacts that the Coronavirus pandemic is having on trucking operations. The research focuses heavily on a survey that solicits critical input from truck drivers and motor carrier staff who are encountering Covid-19 impacts such as limited shipper access, changing distribution patterns and traffic-related issues. "This survey will help us confirm what we know anecdotally," said Tom Weakley, Director of the OOIDA Foundation, "that the trucking industry is leading the charge in responding to food and medicine shortages among other critical supplies. We need everyone's input on this effort." Anyone involved in trucking operations is urged to respond. "Our goal is to complete the data analysis as quickly as possible, as it can provide important guidance to public and private decision-makers. The Covid-19 pandemic is a moving target, and we can't afford to design policies and supply chains around guesswork," said Dan Murray, Senior Vice President at ATRI. For additional information, click here.
Roadside Breakdown Costs Continue to Rise: The TMC/FLeetNet Benchmarking program noted that unplanned roadside maintenance costs have risen 26% in the past year. The main reasons for this are labor rates due to the technician shortage, longer repairs times and more towing events due to the added complexity of newer equipment and increased parts cost partially due to tariffs. These increased costs continue to add pressure to an already exasperated industry.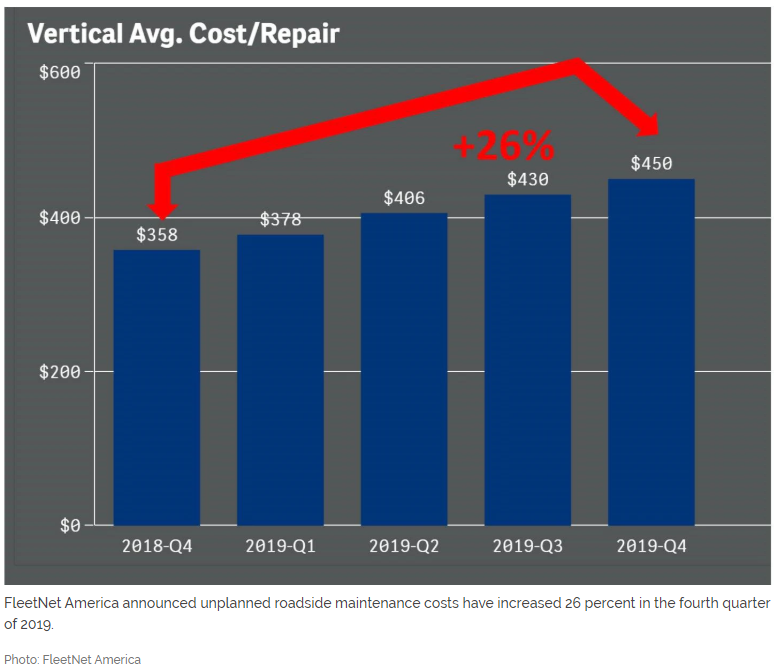 CASES
AUTO
The first trucking case decision in which Covid-19 is mentioned as having an impact on litigation. The Northern District of Illinois addressed the need for continued discovery of medical professionals concerning the injuries suffered by the plaintiffs in a truck accident. The court held that it would apply a broad construction of concept of "burden" of medical discovery in civil tort cases was warranted during COVID-19 public health emergency, for purposes of weighing burden of proposed discovery from medical professionals and treatment providers in personal injury action arising out of motor vehicle accident. The court said:
In other words, the medical community is very, very busy right now, and likely will be busy for weeks or months to come. And these doctors and nurses are busy preparing to take care of sick people. Soon they may be taking care of more sick people than they can handle. We all hope that conditions will not overwhelm our health care system, but at this writing, we do not know how significant the impact will be. Even if the system is not overwhelmed, it may be strained to at or near its limits. Physicians who do not normally practice emergency care may find themselves deployed to emergency rooms. Physicians who might never practice emergency medicine may find themselves immersed in logistical planning or other essential services. It is reasonable for all of us to expect that at this moment and at least for the next few weeks and possibly longer, the situation at hospitals and medical offices will be all hands on deck.*
*All hands cannot be on deck if some of them are at a law office sitting for a deposition in a tort lawsuit.
Discovery is going to be curtailed in this time where we need them all to focus on the public health. Devine v. XPO Logistics Freight, 2020 WL 1275087
A plaintiff was successful in getting a new trial after the jury found her 50% at fault for a truck accident. The New Jersey Appellate Division held that introduction of evidence of her medical condition and her alleged medication non-compliance was in error, and capable of producing an unjust result. Back to a new jury to decide who had the green light at the time of the accident. Wegner v. Derrico, 2020 WL 969824
The Northern District of Ohio gave some relief to a motor carrier, concluding that violations of administrative safety rules do not constitute negligence per se. The court also granted summary judgement to the motor carrier on causes of action for strict liability and negligent hiring. The court rejected the request for summary judgment on the sudden medical emergency defense Yoon v. K-Limited Carrier, 2020 WL 1031486
Claims of negligent hiring, retention and supervision were dismissed against a motor carrier in the Eastern District of Texas. The court held that plaintiff failed to allege contentions sufficient to establish a direct claim against the motor carrier. Joseph v Hood, 2020 WL 1076040
Over in the District Court in South Carolina the court held that plaintiff would not be permitted to assert claims of negligent selection of an incompetent or unfit motor carrier against the shipper and consignee or claims that the driver was an agent or statutory employee of the shipper. Ruh. V. Metal Recycling Services, 2020 WL 1303136
Can you remove a case to federal court after you moved to have the case dismissed in another court on the grounds of forum non conveniens? The Eastern District in Kentucky said yes, refusing to remand the transferred case back to state court where there was no explicit waiver of the right to remove. Defendant did lose its attempt to seek dismissal of plaintiff's claims of negligent hiring, retention, supervision, entrustment, and training. The court held discovery would proceed. Kidwell v. Maybach International Group, 2020 WL 897609
In a similar move, the Eastern District of Texas dismissed a claim of negligent entrustment against a trucking company. The court held that the plaintiff had not produced any evidence that the motor carrier knew the driver was reckless. Anduza v. Baer, 2020 WL 1027678
Last month we reported that the Western District of Arkansas would not stay an action against a truck driver when there were criminal proceedings still in play. This month the court reconsidered its decision and imposed a stay in the civil proceeding. Edwards v. Thomas, 2020 WL 888538
The 9th Circuit refused to allow a plaintiff a new trial following a limited verdict in her favor. The court agreed with the trucking company that it was entitled to submit evidence that plaintiff really suffered no financial loss, beyond unpaid medical, and that her injuries were, in part, preexisting. The defendant was not able to recover fees. Weber v. TMG Logistics, Inc. 2020 WL 9566777
Although we will not find out whether such a claim will be supportable, because the Southern District of West Virginia concluded that there was no personal jurisdiction, it is interesting to note that plaintiffs sought to recover against a company that performed services, including evaluating and screening new hire drivers for the defendant motor carrier, contending that they should not have permitted the driver to be hired. Gilley v. C.H. Robinson, 2020 WL 1272116
Enough is apparently enough. When a pro se plaintiff, after losing at trial, spent the next few years filing suits against everyone involved in the case, including the insurer, defense court, the court and the President, the Middle District of Georgia finally said enough. The court concluded that plaintiff's claims were barred by res judicata, barred by absolute judicial immunity, or failed to state a claim for which relief can be granted. The court also held that the plaintiff was enjoined from filing any additional suits against the defendant without first receiving court permission. Williams v. Land, 2020 WL 1264177.
The Court of Appeals in Georgia held that OCGA § 40-2-140 (d) (4), permits direct actions against the insurers of interstate trucking companies. The statute provides "Any person having a cause of action, whether arising in tort or contract, under this Code section may join in the same cause of action the motor carrier and its insurance carrier." Daily Underwriters of America v. Williams, 2020 WL 1239481
Whether a driver assumes the risk that cargo will fall on him when he knows he should not be near the truck during unloading was a question of fact. The District Court in South Dakota denied the defendant's motion for summary judgment. Gray v. Macarthur Company, 2020 WL 999007
Dash cams to the rescue! The Northern District in Illinois ruled in favor of the United States government in a case involving an impact with a postal truck and a bicycle. The court accepted the truck driver's version, since the dash camera video footage showed the truck slowing down at a comparable rate to the silver car in front of it, driving straight and not swerving and the inside camera showed that the driver was listening to a simple radio talk show at an appropriate volume at the time of the accident. Lazcano v. U.S. 2020 WL 1157368
When the motor carrier denied that its driver was involved in a truck accident defendant's motion for summary judgment was largely premature. The Western District of Oklahoma said that with that pivotal question of fact, i.e. was the driver in an accident, still at issue, the questions of claims for negligent hiring, training, supervision, and entrustment claims would remain to be litigated. The court also held that the plaintiff's claim for punitive damages on the theory of respondeat superior would continue pending resolution of the question of the accident. Kittles v. Harav, LLC 20202 WL 1159396
A motor carrier was unsuccessful in reversing the denial of its request for summary judgment arising from a truck accident. The collision occurred when plaintiff attempted to exit an interstate highway, encountered icy conditions on the exit ramp, and then lost control of her vehicle, which veered back into the lanes of interstate traffic where it was struck by the defendant's tractor-trail Defendants moved for summary judgment dismissing the complaint against them, contending that Burrell was not negligent and that he acted reasonably in response to an emergency situation. The Appellate Division in New York agreed with the trial court that there were questions of fact as to whether the truck was following too closely in light of the weather conditions. Bass v. Burrell, 2020 WL 1224411
Immediately removing a case to federal court under the diversity rule in order to get it done before the non-diverse defendant is served does not always work. The Western District in Oklahoma remanded the case back to state court when the plaintiff was actively trying to serve the driver at the time of removal. Woods v. Dr. Pepper Snapple Group, Inc., 2020 WL 917284
A motor carrier was denied summary judgment when the plaintiff claimed that she made the lane change while the driver was stopped at a red light, and she remained stopped ahead of the truck for at least ten seconds before the collision. The Eastern District in Louisiana held that there was no need to see or make eye contact with the driver to ascertain his intention, if he was stopped at a red light. A question of fact remained. Arroyo v. Travelers Indemnity Co., 2020 WL 1030831
The Western District in Virginia addressed the obligations of a trucking company and shipper for a fatal truck accident. The court granted the motor carriers motion to dismiss claims against the trucking company for negligence, vicarious liability as a statutory employer, negligent entrustment, and negligence or negligence per se by aiding and abetting violations of the FMCSRs. It did, however, permit a claim for negligence per se. With respect to the shipper the court held that the plaintiff failed to support a claim that the shipper assumed the duty for safe transport or a claim for negligent hiring. It should be noted, however that the court permitted an amendment of the complaint to permit the plaintiff to allege the history of safety violations and the conditional DOT rating to support a claim for negligent hiring. McKeown v. Rahm, 2020 WL 1250499
The 10th Circuit Court of Appeals held that it did not have jurisdiction to hear a claim by an auto insurer challenging the judgment of the district court ruling on timely motion by the CGL insurer to correct or amend an amended judgment, seeking reimbursement for auto insurer's share of defense costs in underlying action against insured. The accident arose when a worker at site of crude oil was injured in a fire from ignition of gas were. The court further held that the exclusion in commercial automobile insurance policy for accidents arising out of operation of pump applied and the automobile exclusion in CGL insurance policy did not apply; and that the voluntary-payment doctrine under Wyoming law did not apply in context of two insurers jointly settling claims against their joint insured under mutual reservation of rights. Carolina Casualty Ins. Co. v. Burlington Insurance Co., 2020 WL 948338
Who pays the Pip benefits when the truck driver is hurt? The Eastern District in Michigan concluded that personal auto insurer did not have to pay PIP benefits when the driver was in a truck hauling freight at the time of the injury. The court held that he was an employee at the time he was injured, and therefore the "employee exception" of Mich. Comp. Laws § 500.3114(3) applied. The bob-tail policy did not apply either, leaving the trucker's auto policy as primary. Horace Mann Ins. Co. v. Acuity, 2020 WL 1323234
A truck broker's argument that negligent hiring claims against it are preempted, and therefore allowing the plaintiff to allege such a claim would be futile, was unavailing in the Southern District of West Virginia. The court held that there were various jurisdictions that did not agree and plaintiff should be afforded an opportunity to assert the claim. Taylor v. Sethmar Transportation, Inc., 2020 WL 1181531
A motor carrier was unsuccessful in having a punitive damages claim dismissed in the Middle District of Pennsylvania. A piece of cargo had come off the truck, striking and killing the decedent. The court held that what may constitute a known risk regarding the cargo securing devices at issue was a matter for discovery. The complaint contains allegations which, if proven, plausibly show reckless indifference to the safety of others in that the importance of properly securing a load of angle iron and steel joists cannot be disputed and the requisite degree of culpability for any deficiency related to securing the cargo could potentially support punitive damages if proven. Houck v. WLX, LLC 2020WL 1289810
Employee or independent contractor? Not a question to be resolved on the pleadings apparently. The Northern District of Illinois concluded that there were too many questions on whether the plaintiff was a co-employee when injured in a truck accident. The applicability of the employee exclusion would take longer to resolve. American Inter-Fidelity Corp. v. Hodge, 2020WL 1433783
Independent claims for negligence were not permitted against a motor carrier when it admitted vicariously liability for the actions of the driver. The Eastern District of Louisiana, applying state law, concluded that no such claim existed. Jones v. National Liability & Fire Ins. Co, 2020 WL 1332944
CARGO
Making sure that pleadings are sound when dealing with household goods loss and damage claims is often difficult. The Middle District in Alabama provided a road map for the plaintiff's claims against a motor carrier and a broker, once again allowing plaintiff the opportunity to amend. The court also ordered the plaintiff to show why he believed it could assert a claim against a broker. Peters v. Liberty Bell Moving Group, 2020 WL 1069731
We do not see many claim filing cases these days. The Western District in Kentucky upheld the tariff requirement that a claim be filed in writing within nine months. A general email within the nine months did not substantially comply with the claim filing requirements. Secura Insurance v. Old Dominion Freight Lines, 2020 WL 1430608
A default judgment was entered against a motor carrier in the Southern District of Alabama for damage to household goods. The court held that plaintiffs had established their right to $70,000.00 in damages for repair and replacement cost for the damage to the goods. Rollason v. All State Van Lines Relocation, 2020 WL 1171947.
A pro se plaintiff sought to recover an alleged loss of $153 million when a shipment was late in delivery, resulting in the loss of a government contract. The Southern District of Ohio dismissed the pro se complaint because there was no privity of contract between plaintiff, as the owner of a company, and TQL. While the court indicated that the company might have standing to bring such an action the plaintiff had no standing to bring such a claim on behalf of the company. Brown v. Total Quality Logistics, 2020 WL 1289761
As a carrier learned in the Eastern District in California It is important to make sure that everyone understands what contract applies to a particular shipment. The motor carrier was unable to enforce its forum selection clause as it was determined by the court that it had failed to show that an earlier contract applied to the shipment at issue. Access Biologicals, LLC v. XPO Logistics, 2020 WL 1139560
WORKER'S COMPENSATION
Summary judgment was granted to a motor carrier who was sued for injuries suffered by the truck driver operating its vehicle. The Court of Appeals held that there was no question as to employment status and that the plaintiff's exclusive remedy was worker's compensation. The fact that the co-drivers were paid on 1099's and not on a W-2 did not create a jury issue of the employment status. Estes v. G&W Carriers, 2020 WL 1074056
In a dual truck accident lawsuit the defendant was permitted an opportunity to amend its complaint to seek recovery of worker's compensation payments made on behalf of its driver employee. The District Court in Rhode Island held that the defendant should be permitted the amendment, even if the statute had run as the new cause of action related back to the allegations already in suit. Buerman v. Witkowski, 2020 WL 1083681
A motor carrier was unsuccessful in seeking dismissal of a suit by a co-driver for injuries suffered in a truck accident. The Eastern District in Texas held that the issue of employment was outside the scope of the pleadings and could not be resolved on a motion to dismiss. Summary judgment was the appropriate remedy. Milburn v. Colonia Freight Systems, 2020 WL 1289436
The Supreme Court in Nebraska considered the obligations of an insurance broker to advise about worker's compensation obligations. The plaintiff employee alleged that the broker was negligent in failing to advise employer of obligations under Workers' Compensation Act and that the auto insurer acted in bad faith in denying a defense in underlying suit. The court held that the broker did not have a duty to advise employer of its workers' compensation obligations, and the employer's liability exclusion in commercial automobile and (CGL) provisions applied. Merrick v. Fischer Rounds & Associates, 305 Neb. 230
A class action filed by various truck drivers was decertified by the Supreme Court in Iowa. The drivers sought to assert that an agreement which required them to undertake short term light duty and treatment in Des Moines was not enforceable. The court held that the district court abused its discretion by certifying this case as a class action. The commonality requirement is lacking, individual issues predominate over common ones, and workers' compensation claims must be resolved by the workers' compensation commission before judicial review. Roland v. Annett Holdings, Inc., 2020 WL 131378
Thanks for joining us,
Jean & Chad