CAB Bits & Pieces April 2021
Spring has sprung!
Will April showers bring May flowers? We can only hope! Welcome to May and the start of warmer weather. This is the season of graduations and summer planning. Did you know according to nationaltoday.com, the Month of May has 138 holidays? It starts with National Beer Pong Day on May 1st and ends with Memorial Day. Other highlights include Star Wars Day 5/4 (May the fourth be with you), National Clean your Room Day 5/10, and National Dance Like a Chicken Day 5/14. However, perhaps the most important holiday in May is Mother's Day on May 9th.
We hope all the mothers out there have a wonderful month!
CAB Live Training Sessions
Just a quick reminder that last month's sessions, MC Advantage and CAB for Agents & Brokers were both recorded and are available for viewing at your leisure. They are available at the link below. Additionally, our complete library of recorded webinars is available in the Tools menu under Webinars or by clicking here. If you have a new associate or someone who wants to learn more or needs a refresher, we encourage you to point them in the direction of our pre-recorded webinars.
This month we will present two new live training sessions:
Tuesday, May 11th @ 12p EST: Chad Krueger will present on Adding Motor Carriers to CAB List™. CAB List™ is a powerful management feature that allows individual users to monitor their book of business and prospects. Learn the 5+ ways to add a motor carrier to CAB List™ and how to set up alerts to be notified about changes to your customers and prospects that can be used to better understand a motor carrier's risk and opportunity. Don't miss out on this opportunity to learn about this powerful CAB feature. Click here to register.
Tuesday, May 18th @ 12p EST: Mike Sevret will present, CAB Advanced Training: Tips & Tricks. Learn about the various reports that are downloadable within the CAB ecosystem. Inspection details, shared vehicle reports, analysis central, schedules, SALEs leads and much more! This is a great session to get the most out of your CAB experience. Click here to register.
CAB subscribers can register for either or both sessions from our Webinars page or by logging in and clicking the link below. https://subscriber.cabadvantage.com/webinars.cfm
We are looking forward to connecting with you during these sessions so don't hesitate to ask questions!
Follow us at CAB Linkedin Page CAB Facebook Page
CAB's Tips & Tricks: ISS-CAB Values and the Stop Light
We often get questions about the ISS-CAB Value and how it is determined. A motor carrier with one alert is listed as inspect/red, but a motor carrier with two alerts is optional/yellow.

In any case, we encourage you to hover over or click on the '*Why this score?' link while in the CAB Report. By doing so that link will detail why the score is what it is.
I'll be honest, I had those same questions before coming to CAB. Ultimately it has to do with which category the BASIC falls into. Either, BASIC best addressed roadside or BASIC NOT best addressed roadside. You can see the different categories on the right side below. The left below details scenarios that fall into the 3 categories. It is important to note, that a 100 CAB-ISS Value denotes a motor carrier that has been placed Out of Service.

In layman's terms, Best addressed roadside are generally violations that can be identified while a truck is stopped while NOT best addressed roadside are violations that can only occur while the vehicle is in motion.
Unfortunately, we don't have enough time or space to explain the specific numerical values, but generally, for Red/Inspect and Yellow/Pass, the more alerts in conjunction with higher BASIC Percentiles, the higher the ISS-CAB Value will be.
THIS MONTH WE REPORT:
Congress Again Eyes Liability Insurance Minimum Increase: A bill that would tie truck owners' minimum liability insurance requirements to medical care inflation has been reintroduced in the U.S. House. Rep. Jesus "Chuy" Garcia (D-Illinois) first introduced the legislation, dubbed the "Improving National Safety by Updating the Required Amount of Insurance Needed by Commercial Motor Vehicles per Event (INSURANCE) Act" in 2019, but it never advanced past the House Transportation Committee. The original bill called for motor carriers' minimum insurance levels to be raised from $750,000, based on medical-cost inflation. According to the language of the 2019 bill, the amount of $750,000, which was set as the insurance minimum in 1980, would have had the same buying power as $4.9 million in 2019, based on medical-cost inflation. The bill would also require the Department of Transportation to adjust the liability minimum every five years. The reintroduced bill can be read here.
Large Trucks are Involved in 1/3 of All Fatal Crashes Occurring in Work Zones: "Fatal crashes occurring in work zones are both tragic and absolutely preventable," said FMCSA Deputy Administrator Meera Joshi. "I am especially concerned that large trucks continue to have a disproportionate involvement in fatal crashes occurring in work zones – 33 percent – when large trucks comprise roughly five percent of vehicular traffic. Don't allow yourself to become distracted, slow down, obey the signs and the instructions of flaggers and be courteous and safe by giving every vehicle extra space. Highway workers equally depend on you for their safety." Although Work Zone Awareness Week was April 26-30, awareness should be year-round. To read more about Work Zone Safety and for additional shareable resources, click here.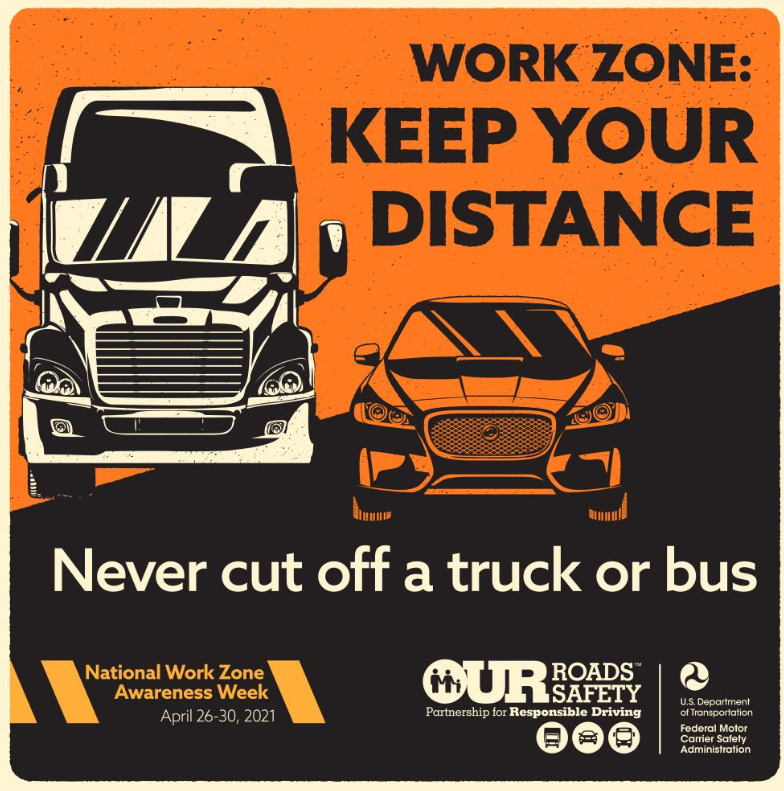 Biden taps Joshi to lead FMCSA: Meera Joshi, who has served as the Federal Motor Carrier Safety Administration's (FMCSA) acting administrator since the Biden administration took office in January, is the president's nominee to head up the agency that oversees the trucking industry. If confirmed by the Senate, Joshi will be the first person to hold the title of FMCSA Administrator since Ray Martinez left the post in 2019. Jim Mullen served as acting administrator after Martinez left. When Mullen retired from the agency last summer, Wiley Deck led the agency as deputy administrator from September until Jan. 20. For more information on the Nominee, click here.
FMCSA wants to further delay electronic medical certification rule's implementation: FMCSA proposes to amend its regulations to extend the compliance date from June 22, 2021, to June 23, 2025, for several provisions of its April 23, 2015, Medical Examiner's Certification Integration final rule. FMCSA issued an interim final rule (IFR) on June 21, 2018, extending the compliance date for these provisions until June 22, 2021. FMCSA proposes to finalize the IFR by further extending the compliance date to June 23, 2025. This action is being taken to provide FMCSA time to complete certain information technology (IT) system development tasks for its National Registry of Certified Medical Examiners (National Registry) and to provide the State Driver's Licensing Agencies (SDLAs) sufficient time to make the necessary IT programming changes after the new National Registry system is available. Additional information on the delay can be reviewed here.
ATRI studying impact of rising insurance costs on trucking: From CCJ Trucking News Brief. The American Transportation Research Institute is in the process of collecting data to better understand the rising costs of trucking insurance and how those costs are ultimately impacting the industry's overall operational costs. This research was identified as a top priority for the group in 2020. ATRI is asking motor carriers to provide data through an online data collection form that will quantify changes in deductibles, excess insurance over minimum requirements, and how drivers and fleets are balancing insurance costs against rising risk levels. The research will be complementary to ATRI's annual Operational Costs of Trucking but will provide more granular detail on one of the most volatile cost centers in the annual analysis.
Support mounts to allow drivers under-21 to cross state lines: More than 100 organizations sent a letter to Congressional transportation leaders on Wednesday urging the passage of the DRIVE-Safe Act, legislation that would allow CDL holders under the age of 21 to cross state lines. Promoted as a solution to a shortage of truck drivers, the legislation – first introduced in 2018 and reintroduced last month – would classify 18-to-20-year-old CDL holders as "apprentices" and allow them to drive interstate while participating in an apprenticeship program. Among the transportation stakeholders to co-sign the letter to Congress were ATA, FedEx, National Tank Truck Carriers, Truck Renting, and Leasing Association, Truckload Carriers Association, UPS, and Walmart. Click here to review the complete article.
Tires the No. 2 cause of OOS violations during CVSA blitz: Tires accounted for 2,102 out of service violations (OOS) on the U.S. during 2020's Commercial Vehicle Safety Alliance International Roadcheck – a whopping 19.7% of all trucks parked during the three-day enforcement event, and second only to brakes as a leading cause. Roughly the same percentage of trucks were parked in 2019 and 2018 with tire and wheel violations. With 2021 Roadcheck kicking off next week, a lot of things can go wrong with a tire. There are 12 tire violations that can place a rig out of service, but with 18 of them needing some degree of inspection, there's plenty to overlook. For more information on tire safety, click here.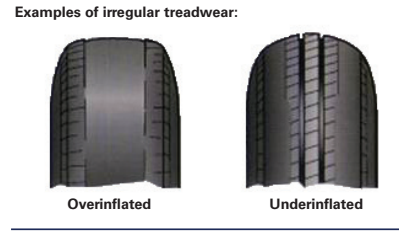 Federal court rules California's AB 5 applies to trucking, dealing blow to owner-operator model in state: The leased owner-operator model in California suffered a severe blow Wednesday as the Ninth Circuit Court of Appeals reversed an injunction that had exempted the trucking industry from state's AB 5 law and the ABC test for determining validity of any independent contractor classification. Transportation specialists Scopelitis, Garvin, Light, Hansen and Feary said the California Trucking Association has 14 days to seek rehearing and up to 150 days to appeal with the U.S. Supreme Court. Scopelitis added that the injunction will be lifted either seven days after the expiration of time to request a rehearing or following a denial of a request for rehearing. Or it could be stayed upon further petition of CTA, such as if CTA seeks review by the U.S. Supreme Court. To read more on this ruling, click here.
CASES
AUTO
How much weight is given to the fact that the motor carrier determined that the accident was preventable? The motor carrier did not want that piece of evidence admitted and sought to exclude it. The Southern District of Ohio ruled that "until evidence is proffered explaining how Swift reached its "preventability" determination, no evidence, testimony or statement of counsel, even during voir dire and in opening statements, is permitted referring to Swift's finding that the subject accident was "preventable.". If that evidence was introduced at trial the court would then rule on its admissibility. Akbar v. Khai, 2021 WL 1206527
Over in New Jersey the court reversed and remanded an action in which a jury verdict was rendered in favor of the motor carrier. The court held that it was a prejudicial error for the court to exclude the statements of the motor carrier's safety department that the accident was preventable and that the driver failed to follow protocols. Hassan v. Williams, 2021 WL 1380211
The Northern District in Texas denied a default judgment to an insurer seeking a declaration that the commercial auto policy and the MCS-90 had no application to a claim. The court recognized that the driver was in default, however as other parties were actively disputing the plaintiff's position the court did not want inconsistent declarations. National Casualty Company v. KT2 LLC., 2021 WL 1338221
Interesting. While a motor carrier would not bear any vicarious liability for an assault that a driver committed following a minor accident, it might bear liability for negligent hiring, retention or supervision of that driver. The Superior Court in Delaware held that there were questions of fact as to whether they should have been more aware of the driver's violent tendencies. Cook v. J&V Trucking 2021 WL 1292796
In a claim seeking damages arising from a multitruck accident the Western District in Oklahoma concluded that the defendant motor carrier failed to present any evidence that the other motor carrier knew or should have known that its driver was likely to operate the tractor-trailer in a reckless or incompetent manner and therefore was entitled to summary judgment on the claim for negligent entrustment. The fact that the driver had sleep apnea and one minor previous accident was not sufficient to support the claim. Kohler Transport, Inc. v. Central States Trucking Co., 2021 WL 1254682
Whether the commercial auto insurer was obligated to tender payment back to the injured party's insurer following a truck action remained a question of fact in the Eastern District of Missouri. The court held that the plaintiff was specifically required to plead the facts to support a negligence claim against the motor carrier and that the application of the statute of limitations to the claim would remain to be resolved as the parties disputed when the claim for reimbursement accrued. United States of America v. Secura, 2021 WL 1265200
Over in the Southern District of Mississippi the court permitted the plaintiff to amend her complaint to allege claims for negligent supervision, training, instruction, training and punitive damages. This despite the fact that the motor carrier conceded vicarious liability for the actions of the driver. Clayton v. Gaidarik, 2021 WL 1328920
When there was no evidence that the motor carrier did not comply with its obligations under the federal safety regulations the Western District in Virginia concluded that the plaintiff had failed to support a direct claim for negligence against the motor carrier following a truck accident. The truck driver did not fare as well, as the court concluded that plaintiff stated plausible willful and wanton negligence claims for punitive damages against the driver. Paul v. Western Express, Inc. 2021 WL 1259446
A trial court's decision to not allow the plaintiff to remove a juror resulted in the 4th District of Florida reversing a defense verdict for a trucker and sending the case back for a retrial. In this case the truck driver was in the southbound lane, was hit by a car traveling northbound, causing the truck driver to flip the vehicle and hit another vehicle resulting in a fatal accident. The jury found the accident unavoidable by the truck driver. Now they will have to retry the liability question. Lafayette v. Moody, 2021 WL 1397538
Can you get cell phone and text records for an extended time period before a crash? The Eastern District of North Carolina agreed that determining whether the driver generally talked or texted during transport was relevant when he struck the plaintiff decedent while on his phone. The records were required to be produced, although the content of the messages would not be released McNeil v. Glasco, 2021 WL 1206588
Speaking of cell phones, consider this. The Eastern District of Pennsylvania held that the plaintiff could sustain a claim for punitive damages based upon the driver's potential recklessness in looking at his cell phone while driving the truck. He pushed her vehicle for 30 seconds before he noticed that he was doing so, allegedly distracted by the cell phone. Tjokrowidjojo v. San Lucas, 2021 WL 1561956
Whether the truck driver was wanton in causing the truck accident that injured the plaintiff remained to be considered by the jury. The Northern District of Alabama held that the plaintiff had alleged sufficient facts to support a claim when the undisputed evidence establishes that the driver created the circumstances that caused his accident through an unforced error. Johnson v ABF Freight System, Inc. 2021 WL 1320500
. In a related case the court held that the negligence claims against the motor carrier failed under Alabama law because the plaintiff had not demonstrated that the motor carrier knew or had reason to know that the driver was not a competent driver. 2021 WL 1312873
The Eastern District of Louisiana denied summary judgment to the plaintiff on the issue of liability following a truck accident. Even though the truck driver "failed to keep a proper lookout and attempted to change from the right lane to the middle lane, causing his vehicle to abruptly enter [the] Plaintiffs' lane of travel and collide with [the] Plaintiffs' vehicle" there remained questions of fact that required that the case go to the jury. Baham v Moore, 2021 WL 1165415
The same motor carrier did well in another jurisdiction too. Direct claims for negligence against the motor carrier failed in the Eastern District of Pennsylvania when the motor carrier conceded vicarious liability for the actions of the driver. While it might be possible if the plaintiff alleged a viable claim for punitive damages, this plaintiff did not. Carson v. Tucker, 2021 WL 1193110
When it was only during the course of discovery that the plaintiff learned that the owner of the tractor and the owner of the trailer were different people the District Court in New Mexico permitted the plaintiff to amend the complaint to assert new claims against those parties. The existing defendants could not show prejudice by the amendment. Haertlein v. Amerifield, 2021 WL 1259663
Plaintiff was unable to sustain a cause of action against Amazon following a truck accident which injured the plaintiff. The Southern District of Indiana concluded that the plaintiff could not support a duty owed by Amazon to the motoring public. There was no factual support for a claim that Amazon was aware of the problems with the vehicle which may have led to the accident. Richardson v Rasulov, 2021 WL 1429005
A win for the motor carrier in the Northern District of Texas. After the parties rested at trial the court granted judgment in favor of the motor carrier on claims of gross negligence. The jury agreed, giving the motor carrier a defense verdict on the direct negligence claim too. Hanan v. Crete Carrier Corp., 2021 WL 1237105
The Eastern District of Kentucky held that a truck broker was entitled to dismissal of the suit filed against it for a truck accident when the plaintiff failed to complete service in a timely manner. Stapleton v. Vicente, 2021 WL 1234636
The Northern District of Ohio refused plaintiff's request to remand a case back to state court based upon plaintiff's contention that removal was untimely. The court held that an off the record demand of one million dollars from plaintiff would not constitute an "other paper" triggering the time to remove the case. Perry v. Norfleet Transportation, LLC., 2021 WL 1176769
Be careful when you decide to bring a third party action after moving a case to federal court and the third party defendant is not diverse. The trucking company defendant brought an action against a party who allegedly negligently repaired the plaintiff's vehicle, causing it to breakdown in the road, leading to the rear end collision with the motor carrier. The Western District of Kentucky held that the plaintiff would also have a right to assert a direct claim against the third party, which would defeat diversity and send the case back to state court. Joyner v. Bestway Express, 2021 WL 1318321
I always think it is important to take a look at discovery motions and the court's leanings, especially in today's nuclear verdict world. The District Court in Colorado was considering how much information the plaintiff could get on the general processes and procedures of the motor carrier when vicarious liability for the actions of the driver was admitted. The court held that while the plaintiff was entitled to this information as it related to the driver, it could not seek this information generally about all drivers. Clem v. Moore, 2021 WL 1238284
Across the road in Pennsylvania the Eastern District of Pennsylvania also dismissed all state law claims for property damages and personal injuries stemming from an interstate move where the plaintiff was injured while wheeling his motorcycle up the ramp of the moving truck. The court could not figure out who was the household goods carrier and who was the agent, leaving that issue to be resolved at a later date Cerbone v. Allied Van Lines, 2021 WL 1397011. Claims for negligent infliction of emotional distress and loss of consortium were also dismissed as preempted. 2021 WL 1374608
The Western District in Washington agreed that it was not the proper venue for a complicated coverage analysis as to the applicability of the motor carrier's tower of coverage to claims against a shipper for injuries to a truck driver when a load of lumber fell on him. The court concluded that as California was also an appropriate venue, and the policies were issued to a California insured, California was a more appropriate venue, sending the case to the Central District of California for adjudication. Weyerhaeuser Company v. AIG Property Casualty, Inc., 2021 WL 1575364
Choice of law is often a pivotal component to a case, which was apparent in this case in the Northern District of Illinois. The plaintiff sought damages for negligence arising from an Illinois truck accident. However the plaintiff also sought damages for willful and wanton hiring, entrustment and retention. The Court found that the motor carrier rebutted, for these specific Counts, the strong presumption that the place of the injury governs. The actions related to the employment of the driver took place in Wisconsin, which would govern those claims. Wisconsin has a much more favorable standard of liability for the trucker. Kleronomos v. Aim Transfer & Storage, Inc., 2021 WL 1545428
CARGO
Even though the plaintiff thought the Carmack Amendment would be inapplicable to a claim that the motor carrier failed to care for damaged property after the loss, the Eastern District in Pennsylvania disagreed. The court concluded that all state laws claims were preempted when the shipment was subject to the Carmack Amendment. Asmis v. Philadelphia Truck Lines, Inc. 2021 WL 1387499
Over in the District Court in New Jersey the court determined that claims for breach of bailment and negligence were preempted by FAAAA in an action seeking recovery for cargo damages. The only claim against the carrier/warehouseman was a claim for breach of contract. Assicurazioni Generali v. Harbor Freight Transport Corp., 2021 WL 1401120
Although preemption is often addressed in the cases we report, it does not extend to totally intrastate transportation. The Eastern District in Wisconsin declined jurisdiction on a cargo claim that arose from transportation within the state of Wisconsin. The court remanded the case back to state court, concluding that there was no federal common law applicable to intra-state transportation. Asphalt Contractors, Inc. v. R&J Transport, 2021 WL 12501
Avoiding the impact of Carmack Amendment venue provisions is difficult. The Eastern District of Michigan concluded that as long as the transport was not for household goods and the contract term did not govern registration, insurance, or safety fitness, a forum selection clause is acceptable, provided the specific venue provisions under the Carmack Amendment were specifically waived (which they were not). The court agreed that a waiver of rights and remedies under the Carmack Amendment must "expressly" reference the statute in some way "on the face of the contract provision in question." Michigan Custom Machines, Inc. v. AIT Worldwide Logistics, Inc., 2021 WL 1207358
The District Court in Massachusetts granted final judgment to the maintenance company when there was no causal connection between a tire change and damage to the cargo. After 3 years of litigation there was no evidence to support keeping them in the case. Woods Hole Oceanographic Institution v ATS, 2021 WL 1565418
What applies when the parties enter into an agreement to clean, store and move household goods in interstate commerce? The Eastern District of North Carolina concluded that neither an oral contract or a written work authorization were enforceable contracts, but that a claim under the Carmack Amendment might exist. The plaintiff argued that Carmack would not limit her recovery as the transportation services were part of a different primary purpose, i.e. the cleaning and storage and therefore exempt. The court held what the potential for the exemption was not shown without a question of fact and therefore denied summary judgment to the plaintiff. Bryand v. Core Contents Restoration, LLC, 2021 WL 1207719
PHYSICAL DAMAGE
How often do you see that there is an issue with the recorded VIN on the physical damage policy? The 5th Circuit affirmed a lower court decision finding that the insurer could not deny coverage because of an incorrect VIN when the evidence indicated that the damaged vehicle was the one that should have been on the policy. The court agreed with the reformation of the policy. Unfortunately the court also found that the insurer was responsible for a delayed payment, hitting the insured with additional damages under Louisiana law. Jackson v. Berkshire Hathaway Homestate Insurance Co. 2021 WL 142206
COVID 19
We probably are all reading about the insurance claims for business interruption caused by COVID-19. The Eastern District in Virginia considered a claim submitted by a trucking company that lost business when all non-essential in-store businesses were shut down. The court found that the plain language of the insurance policy was unambiguous, and by the unambiguous plain language of the policy, the claim based on the harm caused by COVID-19, a virus, was barred by the Virus and Organic Pathogen Exclusions – regardless of how the phrase "direct physical loss or damage" was interpreted. L&L Logistics & Warehousing Inc. v. Evanston Insurance Co., 2021 WL 1396280
Worker's Compensation
The estate of a truck driver was unable to enforce a proposed settlement agreement for compensation when the driver was tragically killed in a motorcycle accident. The Court of Appeals in Iowa concluded that the estate could not establish that the settlement terms had been agreed upon by the parties prior to the death. The worker's compensation settlement would be drastically impacted by the death of the claimant. Estate of Albaugh v. UPS Freight, 2021 WL 1400087
Thanks for joining us,
Jean & Chad