Welcome to 2022!
Hopefully, 2022 is off to a great start for you both personally and professionally. I'm sure this year has some wonderful things in store for all of us. We at CAB look forward to continuing to provide our unique and valuable tools and resources. Additionally, we will continue to create added value through innovation and collaboration with our users.
Have a great month!
CAB Live Training Sessions
Tuesday, February 8th @ 12p EST: Grow Your Business with SALEs-Targeted Leads Generator, presented by Mike Sevret. Click here to register.
Tuesday, February 15th @ 12p EST: CAB Claims Training, presented by Jean Gardner. Click here to register.
Don't forget, you can explore all of our previously recorded live webinar sessions on our website!
Follow us at CAB LinkedIn Page CAB Facebook Page
CAB's Tips & Tricks: Severe Violation detail in BASICs Calculator
A quick update on an enhancement that has been around for a bit in the BASICs Calculator. When a motor carrier has a Severe Violation from a Compliance Review, we will denote that with a red alert triangle (highlighted in yellow below). To learn more about the specific violation, hover over the alert triangle and a dialog box will appear detailing the date, code, and violation description. Additionally, it will let you know if the violation is critical or acute.
(If you'd like to learn more about Corrective Actions and Performance Requirements for Acute & Critical Violations, click here.)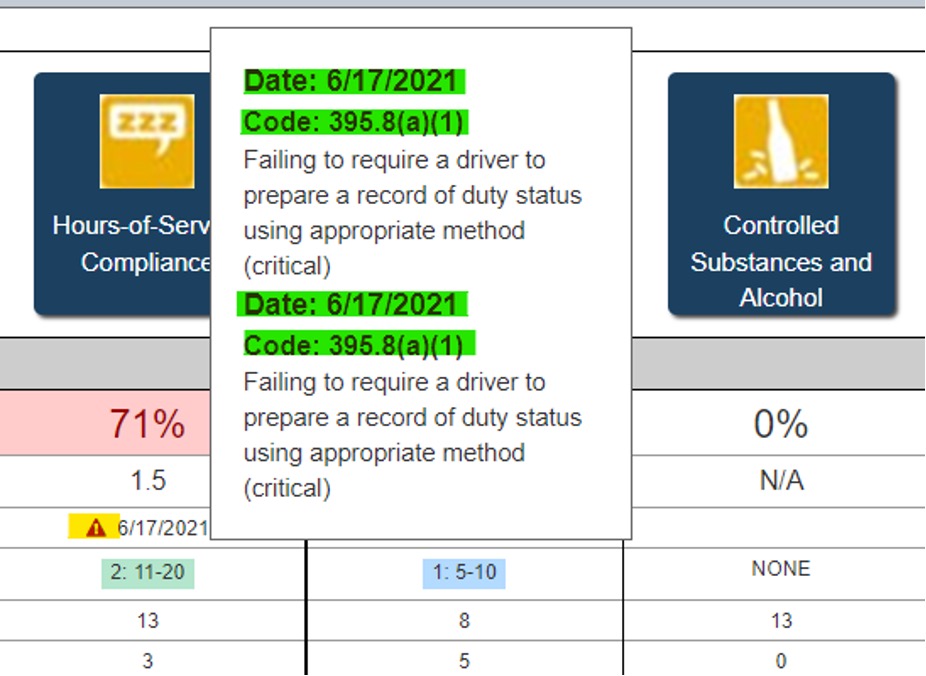 Having ready access to this information in the BASICs Calculator will allow you to quickly reference the information while evaluating and/or during discussions with the motor carrier.
You are encouraged to reach out via phone, email or via the "Contact Us" button in the My Account area of the menu.
THIS MONTH WE REPORT:
Compliance date looms for FMCSA Entry-Level Driver Training rule: The Federal Motor Carrier Safety Administration (FMCSA) Entry-Level Driver Training (ELDT) rule is set to take effect Feb. 7, establishing for the first-time minimum training standards for truck drivers looking to enter the industry. Click here for more information.
Trucking's cybersecurity threat grows as more tech added to trucks: Numerous trucking companies and other businesses related to trucking have been increasingly targeted by hackers in cyberattacks over the last two years. With more technology being added to trucks with every new model year, there is also a growing threat of hacks into the computer systems of the vehicles themselves. For more information on this topic, click here.
After the worst happens: Nuclear-verdicts threat rolls downhill to small trucking companies, owner-ops: All the buzz over the last decade in the trucking and mainstream press around so-called nuclear post-crash verdicts in civil litigation – extremely high awards to plaintiffs injured in crashes involving commercial trucks – reached what might be an inevitable outcome in and around New Orleans in recent years. Revelations continue to mount from the investigation of a ring of attorneys, medical providers and on-the-ground participants willing to put themselves in danger on the highway to purposefully collide with a tractor-trailer. Click here to read more.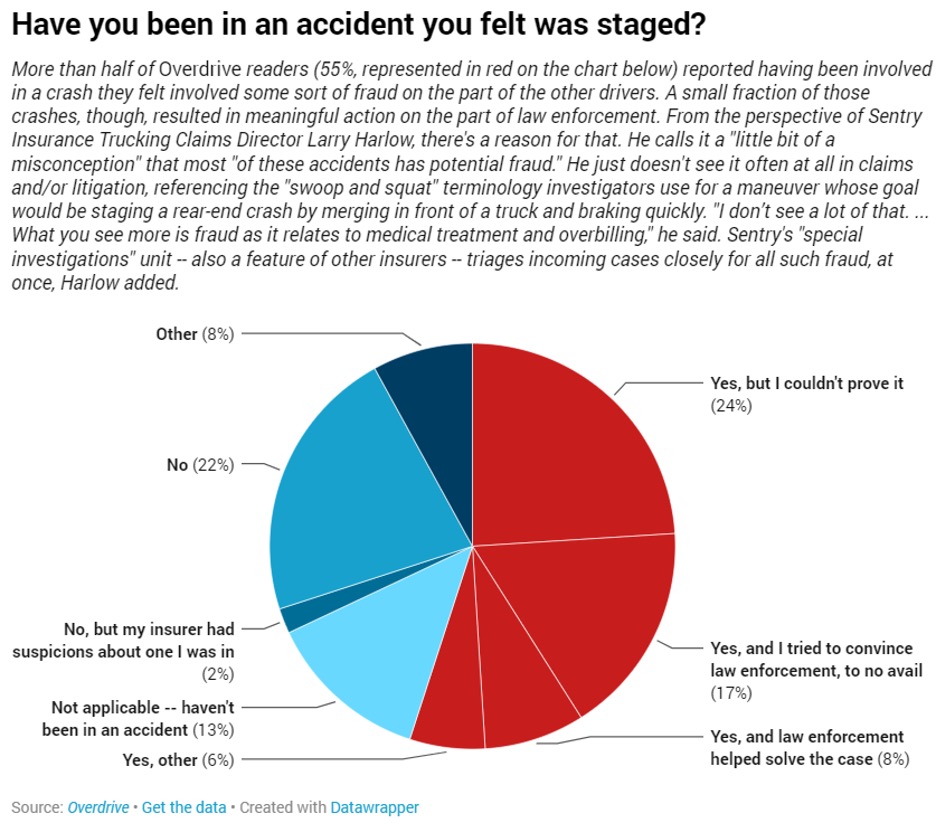 Robin Hutcheson Announced as Deputy Administrator of the FMCSA: U.S. Transportation Secretary Pete Buttigieg announced that Robin Hutcheson will become the Deputy Administrator of the Federal Motor Carrier Safety Administration. As Deputy Administrator, Ms. Hutcheson will serve as the Acting Administrator. The complete press release can be found here.
FMCSA Declares Florida Motor Carrier to be an Imminent Hazard to Public Safety: The U.S. Department of Transportation's Federal Motor Carrier Safety Administration (FMCSA) has declared West Palm Beach based Professional Marine Hauler's LLC, USDOT No. 3574084, to be an "imminent hazard" to public safety and has ordered the company and its principals, Claudia Angeligue Abreu and Ariel Martinez, to immediately cease all interstate and intrastate operations. The company and principals were served the federal order on January 14, 2022. On November 9, 2021, Professional Marine Hauler's was involved in a CMV crash resulting in 2 deaths and 9 injuries. For the complete Out of Service Order, click here.
DOT, DOL Announce Expansion of Trucking Apprenticeships, New Truck Driver Boards and Studies to Improve the Working Conditions of Truck Drivers: In December, as part of Administration's approach to strengthen America's supply chains, address bottlenecks, and lower prices for Americans, the U.S. Department of Transportation (DOT) and the U.S. Department of Labor (DOL) announced the Administration's Trucking Action Plan, which includes the following:

• Expanding Registered Apprenticeship programs
• Creating the Women of Trucking Advisory Board
• Creating a new task force to investigate predatory truck leasing arrangements with DOL and the Consumer Financial Protection Bureau
• Beginning two studies to explore the issues of truck driver pay and unpaid detention time
• Launching the Safe Driver Apprenticeship Pilot –an under-21 pilot program for truck drivers mandated in the Bipartisan Infrastructure Law
• Over $32 million in funding to states to improve CDL licensing process
For complete information, click here.
OSHA withdraws vaccine, COVID testing mandate: The Occupational Safety and Health Administration (OSHA) said it is withdrawing its vaccine-or-test emergency temporary standard, which the U.S. Supreme Court effectively shelved Jan. 13. The withdrawal was effective Jan. 26. OSHA was seeking mandatory COVID-19 vaccines or weekly testing for companies with 100 or more employees, but earlier this month SCOTUS ruled the Secretary of Labor lacked the authority to issue such a mandate, even through the OSH Act's emergency temporary standard exemption. For complete information, click here.
New Technology could help prevent Wheel Off Incidents: There's a new technology available that is designed specifically to address wheel-off incidents for commercial fleets. Markus Hess is President of the company and had a hand in developing the technology behind its namesake, which stands for Loose Wheel Sensors. Hess noted that about a fourth of all wheel-off incidents are a result of the excessive heat of the type that Grenerth experienced those years ago. Most of the rest, he said, can be blamed on loose lug nuts. For more information on this technology, click here.
CAB Case Summaries January 2022
These case summaries are prepared by Robert "Rocky" C. Rogers, a Partner at Moseley Marcinack Law Group LLP.
CARGO
RPM Freight Sys. v. K1 Express, 2022 U.S. Dist. LEXIS 6556, C.A. No. 21-11964 (E.D. Mich. Jan. 12, 2022). A motor carrier successfully had counts for declaratory judgment and unjust enrichment dismissed where broker also alleged a breach of contract cause of action. Broker and motor carrier entered into a broker-carrier agreement containing a defense, indemnification, and hold harmless provision in favor of broker. Broker brokered a load of Teslas to motor carrier, which were destroyed when the tractor-trailer caught fire. Tesla made a claim against broker, who placed motor carrier on notice of the claim and demanded defense and indemnification, which motor carrier refused. Broker brought a lawsuit for breach of contract, declaratory judgment, and unjust enrichment. Broker moved to dismiss the declaratory judgment and unjust enrichment causes of action. The court agreed with broker, dismissing the declaratory judgment claim as redundant of the breach of contract and dismissing the unjust enrichment claim under Michigan law, which holds unjust enrichment is not appropriate where the parties agree there was an express agreement between them.
Prismview, LLC v. Old Dominion Freight Line, Inc., 2022 U.S. Dist. LEXIS 5735, C.A. No. 1:21-cv-136 (D. Utah Jan. 11, 2022). Motor carrier successfully had state law causes of action pled in the alternative to a Carmack claim dismissed as preempted by the Carmack Amendment. Plaintiff claimed there was a fact issue as to whether defendant acted as a motor carrier subject to Carmack Amendment, which could not be determined at the pleading stage. The court specifically noted that the plaintiff alleged in its complaint that defendant was a motor carrier subject to liability under the Carmack Amendment, which defendant admitted in its responsive pleading. Therefore, the issue was resolved by the pleadings. Accordingly, the Carmack Amendment was plaintiff's sole remedy and the state law causes of action were dismissed.
Siaci St. Honore v. UPS, 2021 U.S. Dist. LEXIS 247754, C.A. No. 18-13502 (D.N.J. Dec. 28, 2021). Summary judgment was entered in favor of UPS and CSX and against subrogated insurer of cargo allegedly stolen from a UPS shipping container. Shipper and UPS had in place an "Incentive Agreement" which set forth various terms and conditions and incorporated by reference UPS's Tariff. The Incentive Agreement itself contained a link to the T&C and Tariff and further noted they are available at UPS local offices. Under the Tariff, UPS's liability per package was limited to $100 unless a shipper declares a higher value and pays a fee. The Incentive Agreement further provided UPS can engage subcontractors to perform the work and that the protections for UPS under the Tariff extend to subcontractors hired by UPS. For the shipment at issue, the shipper did not declare a higher value. UPS contracted with CSX for a portion of the move and the alleged theft occurred while the shipping container was in CSX possession/control. UPS and CSX moved for summary judgment that their liability was limited to $100 per package and shipper counter-moved for summary judgment. The court rejected all arguments by shipper that the limitation of liability did not apply to either UPS and/or CSX and granted summary judgment in favor of UPS and CSX that their liability is limited to $100 per package.
Brentzel v. Fairfax Transfer & Storage, Inc., 2021 U.S. Dist. LEXIS 38522, C.A. No. 21-1025 (4th Cir. Dec. 29, 2021). The Fourth Circuit affirmed numerous rulings of the federal trial court in a case stemming from alleged loss or damage during interstate household goods move. Plaintiff challenged on appeal district court's consideration at the motion to dismiss stage various bills of lading containing a nine-month claim-filing limitation, alleging they were not essential or critical to her claims and therefore could not be considered at the motion to dismiss stage. The Fourth Circuit found the trial court properly considered the subject bills of lading because they formed the contractual shipping relationship at issue in the lawsuit and set the parties' respective liability. Plaintiff's claims that her agent never saw the backs of the bills of lading and may not have even signed them were rejected because they were raised on appeal for the first time. Further, the appellate court found the trial court properly disregarded "conclusory" allegations of the Complaint attempting to limit the authority of the plaintiff's agent in making the shipping arrangements, and further that the allegations of the Complaint that the agent was tasked with overseeing the shipping arrangements were enough for the trial court to conclude the agent had actual authority to sign the bills of lading. Likewise, the court affirmed the trial court's ruling that the motor carrier could rely upon the agent's apparent authority in executing the bills of lading. From this, the appellate court found the nine-month claim filing deadline contained on the bills of lading was valid and rendered plaintiff's claims time-barred. Last, the Fourth Circuit affirmed the trial court's dismissal of plaintiff's state law causes of action for conversion as preempted by the Carmack Amendment.
BROKER
Hunt v. Just in Time Cargo, 2022 U.S. Dist. LEXIS 1970, C.A. No. 1:18-cv-1077 (D. N.M. Jan. 4, 2022). Freight broker's motion to dismiss for lack of personal jurisdiction was granted where the court found it had limited, if any, connections to the forum state. After explaining New Mexico's long-arm statute extended personal jurisdiction as far as constitutionally permissible, the court then noted the broker was not "at home" in New Mexico for general jurisdiction because it was incorporated in Ohio and maintained a principal place of business in Florida. It was not registered to do business in New Mexico, had no agent for service of process in New Mexico, did not advertise in New Mexico, and kept no physical office in New Mexico. The court found that even if it regularly contracted for delivery in New Mexico, since it arranged for deliveries nationwide, New Mexico could not be considered its home state. As for specific jurisdiction, while the crash occurred in New Mexico, the transportation contract was not particularly directed at New Mexico—pick up in California and delivery in New Jersey. Since the court found the broker did not direct the route of travel of the motor carrier, it should not expect to be hauled into courts in the state. "To conclude otherwise would require the Court to hold that any upstream entity in the logistics chain is subject to personal jurisdiction in any state through which their contracted freight happens to pass, even though the upstream entity did not control the route taken. A business brokering freight which passively travels through countless states can scarcely be deemed to be purposely conducting business in all of them."
INSURANCE/COVERAGE
Progressive Commer. Cas. Ins. Co. v. Xpress Transp. Logistics, LLC, 2022 U.S. Dist. LEXIS 4999, C.A. No. H-21-2683 (S.D. Tex. Jan. 11, 2022). The insurer filed a declaratory judgment action seeking a declaration of non-coverage based upon various employee exclusions under the policy and MCS 90 endorsement on the policy. The decedent's estate counterclaimed, alleging the insurer had a duty under the MCS 90 endorsement to make a reasonable settlement offer. The estate moved for summary judgment that decedent was not a statutory employee of the motor carrier and therefore coverage existed under the policy. The court denied the estate's motion, finding it premature, and granted the insurer's motion to defer decision on statutory employment until after discovery on that issue could be had. The court also granted the insurer's motion to dismiss with respect to the counterclaim, finding there was no "duty to settle" under the MCS 90 endorsement.
Handley v. Werner Enters., 2022 U.S. Dist. LEXIS 4913, C.A. No. 7:20-cv-00235 (M.D. Ga. Jan. 11, 2022). Excess insurer of motor carrier obtained summary judgment that it was not subject to suit under Georgia's direct-action statute. Plaintiff filed a personal injury lawsuit and named the motor carrier, who was self-insured up to $1 million, as well as the excess insurer of the motor carrier, whose liability would only arise after the self-insurance by the motor carrier was exhausted. The court held that the motor carrier exception under Georgia's direct-action statute does not apply to excess insurers. Since the motor carrier was self-insured for up to $1 million, the insurance company was an "excess insurer" and could not be sued directly in the personal injury action.
Hudson Ins. Co. v. All Am. Delivery Sys, LLC, 2022 U.S. Dist. LEXIS 982, C.A. No. 21-cv-02659 (N.D. Ill. Jan. 4, 2022). The court denied insurer's motion for judgment on the pleadings in an insurance coverage declaratory judgment action, finding that the rental vehicle could constitute a "temporary substitute auto" under commercial auto liability policy. The insurer argued in order to qualify as a temporary substitute auto, the vehicle must replace one that the insured "owned" and since the vehicles listed on the declarations page to the policy (i.e. the replaced vehicles) were not owned by the insured, the involved rental vehicle could not constitute a temporary substitute auto and trigger coverage under the policy. Specifically, the court found the policy did not define "ownership". Other provisions of the policy did, in fact, connote ownership with lawful possession and extended to rented, leased, or borrowed vehicles. Thus, the court rejected the "vehicle you own" language as used in the Motor Carrier Coverage Form's definition of temporary substitute meant the replaced vehicle had to be owned outright by the insured. Because it found coverage under the policy, it did not address insurer's MCS 90 argument.
Russell v. Escobar, 2022 U.S. Dist. LEXIS 7605, C.A. No. 18-00660 (M.D. La. Jan. 13, 2022). An insurer for the motor carrier was granted summary judgment in a personal injury action. The court held the insurance policy did not provide coverage for the accident because the involved tractor-trailer was not listed on the declarations page to the policy. With respect to the MCS 90, the court applied the "trip specific" approach and found the driver, who owned the tractor and trailer and "leased on" to the motor carrier, was not "presently engaged in the transportation of property in interstate commerce" at the time of the accident because the driver testified at the time of the accident he was not transporting property belonging to a third-party but instead was on a personal mission to get his trailer repaired. At the time of the accident, the tractor-trailer was not hauling a load. It was further undisputed that the motor carrier did not instruct the driver to get the trailer repaired.
WORKERS' COMPENSATION
Wal-Mart Assocs. V. Anderson, 2022 Ark. App. 12, C.A. No. CV-21-244 (Ark. Ct. App. Jan. 12, 2022). The Arkansas Court of Appeals affirmed the ruling of the Arkansas Workers' Compensation Commission awarding benefits to a truck driver under the theory the driver, in removing personal belongings from the truck in order to sanitize it, was performing a task both required by the employer and "inherently necessary for the performance of their primary job." It did not matter that the driver was "off the clock" or not being compensated for the work performed at the time of the injury. The court distinguished prior cases holding a driver injured while going to the restroom and another where the driver was injured while going to a shower, finding that neither of those activities were "inherently necessary to the performance of the job."
Matter of Moore v. U.S. Xpress, Inc., 2022 N.Y. App. Div. LEXIS 73, C.A. No. 532233 (N.Y. Sup. Ct. App. Div. Jan. 6, 2022). Appellate court upheld New York Workers' Compensation Board's denial of workers' compensation benefits to truck driver where driver's neurosurgeon testified the driver's surgery was necessitated by an abscess on the driver's spinal cord likely caused by an infection, not trauma, and another neurosurgeon explained it was "very unlikely" that routine or repetitive lifting would have resulted in a thoracic spine injury as alleged by the claimant.
Sprouse v. Turner Trucking, 2022 N.C. App. LEXIS 39, C.A. No. COA20-874 (N.C. Ct. App. Jan. 18, 2022). Decision of NC Industrial Commission awarding Claimant truck driver workers' compensation benefits was reversed on appeal where she began treating with a physician of her choosing two days after the accident and continuing for more than a year thereafter, but never mentioned the work accident to her physician during this treatment. When her pain and soreness did not improve, she underwent surgery and only then reported the work accident to her employer and made a claim for workers' compensation benefits—471 days after the accident. The Court of Appeals held the employee failed to provide statutory 30 days' notice, the employee did not provide a reasonable excuse for the failure to provide notice, and that employer/insurer had shown prejudice by the delayed reporting.
Brooks v. Benore Logistics Sys., 2022 S.C. App. LEXIS 16, Opinion No. 5891 (S.C. Ct. App. 2022). The appellate court reversed the Workers' Compensation Commission's decision denying benefits to a truck driver premised upon an alleged repetitive trauma injury. The driver worked as a "switcher" at a local manufacturing plant, which caused him to frequently climb in and out of the cab of the truck and bend to hook/unhook trailers. He testified he would have to switch forty-five to sixty trailers each twelve-hour shift. After approximately six months of working this job, he began to experience pain in his back and leg. The driver's attorney sent the treating physician a medical questionnaire, in response to which the physician casually-related the driver's complaints to his work duties. At the hearing, the only evidence presented by the employer in response to the medical questionnaire was a report from an ergonomics expert. In reversing the Commission's denial of benefits, the appellate court explained while the Commission can disregard even uncontradicted medical evidence, it must have a valid reason supported by competent evidence in doing so. The appellate court found the ergonomic expert's report did not meet the burden for such other competent evidence.
AUTO
Ezzi v. Domino's Pizza, LLC, 2021 NYLJ LEXIS 1261 (N.Y. Sup. Ct., Richmond Cnty. Jan. 7. 2022). New York trial court granted summary judgment to driver and motor carrier. Motor carrier argued there was no dispute of fact as to how accident occurred. Part of the record considered by the court was a dash-cam video from the tractor-trailer that showed the tractor-trailer was moving at 17-18 miles per hour, in moderate traffic conditions, maintaining its lane of travel, and maintaining a safe distance of at least three to four car lengths, when suddenly and without warning, the U-Haul, in which the tort plaintiff was an occupant, swerved abruptly into the tractor-trailer's lane and immediately slammed on brakes causing the tractor-trailer to strike the U-Haul in the rear. The court found there was "no objectively identifiable reason" for the U-Haul to have abruptly changed lanes and slam on brakes as it did, suggesting a staged accident. As such, the actions of the U-Haul driver (i.e., not driver of Domino's tractor-trailer) were the sole proximate cause of the accident and motor carrier/driver granted summary judgment in their favor
Burns v. Shama Express, LLC, 2022 U.S. Dist. LEXIS 6589, C.A. No. 21-5104 (E.D. Pa. Jan. 13, 2022). This wrongful death and survival tort action was transferred from the Eastern District of Pennsylvania to the Western District of Pennsylvania for the following reasons: (1) the Western District encompassed the place of the accident; (2) no party resided in the Eastern District; (3) event and witnesses had no connection to Eastern District; and (4) public interest factors favored adjudication in Western District, which had interest in local accident.
McCray v. Milan Supply Chain, 2022 U.S. Dist. LEXIS 5207, C.A. No. 2:20-cv-01891 (N.D. Ala. Jan. 11, 2022). Motor carrier was granted summary judgment on negligent entrustment and punitive damages claims in the lawsuit arising from a motor vehicle accident. The court considered: (1) driver of tractor-trailer had worked as a commercial driver for over twenty years; (2) motor carrier ran MVR before hiring driver, which came back clear; (3) motor carrier performed pre-employment drug test on driver; (4) motor carrier verified driver's employment history prior to hiring; (5) motor carrier made driver perform road test; (6) motor carrier provided driver entry level driver training; and (7) accident was caused by another vehicle cutting in front of plaintiff's vehicle causing him to abruptly stop in front of tractor-trailer. The court found considering this record, no reasonable juror could find wantonness to support punitive damages or that the driver was an "incompetent driver" as necessary to support negligent entrustment under Alabama law.
Forbes v. BB&S Acquisition Corp., 2021 U.S. App. LEXIS 38375, C.A. No. 21-1257 (1st Cir. Dec. 28, 2021). The First Circuit affirmed summary judgment in favor of a shipper on negligent selection cause of action where the accident involved an independent contractor hired by shipper and the accident occurred after the completion of the job. BB&S contracted with Gregory Trucking to haul a load of treated lumber from BB&S's location to L.P. Adams, a lumberyard in Massachusetts. The driver for Gregory Trucking completed delivery of the BB&S load to L.P. Adams the following day around 7:00 a.m. Thereafter, Gregory Trucking dispatched the driver to fulfill another company's transportation contract. While going to pick up the cargo for this other transportation contract, the driver was involved in a fatal accident. The estate filed suit against BB&S, alleging it negligently selected an independent contractor and it was the "statutory employer" of the driver under 49 C.F.R. 390.5. The district court granted summary judgment to BB&S and the First Circuit affirmed. The 1st Circuit found any obligations upon BB&S to the public under the contract with Gregory Trucking ceased when Gregory Trucking completed delivery at L.P. Adams' location. The First Circuit likewise rejected the estate's argument that BB&S was acting as the "motor carrier" and therefore was the statutory employer of the driver under 49 C.F.R. 390.5, affirming the lower court's ruling that BB&S was the shipper in the at-issue transaction. Likewise, even assuming there could be any statutory employment relationship between BB&S and the driver, such relationship ceased upon delivery of the load to L.P. Adams' location.
Labacz v. Rohr, 2022 U.S. Dist. LEXIS 2142, C.A. No. 19-cv-00528 (E.D.N.Y. Jan. 5, 2022). A federal trial court denied summary judgment in this case stemming from motor vehicle accident involving three tractor-trailers finding triable issues of fact of defendants' liability precluded summary judgment, multiple accident reconstruction expert reports notwithstanding.
Williams v. CW Transp., LLC, 2021 U.S. Dist. LEXIS 248454, C.A. No. 3:21-cv-1044 (M.D. Pa. Dec. 31, 2021). A federal trial court denied motor carrier/driver defendants' motion to dismiss claims of reckless conduct finding the Complaint sufficiently pled facts that if believed by a jury could support cause of action for recklessness but did grant defendants' motion for a more definite statement. Specifically, the court found the Complaint alleged statutory and rule violations but did not specify the statutes or rules allegedly violated. The court therefore granted plaintiff leave to file an Amended Complaint correcting these deficiencies.
Canada v. Masri, 2021 U.S. Dist. LEXIS 248236, C.A. No. 3:21-CV-655 (E.D. Va. Dec. 30, 2021). Court denied motor carrier/driver defendants' motion to dismiss claim of gross negligence but granted motion to dismiss on claim of willful and wanton negligence. The court found, even interpreting the facts as pled in the Complaint in the light most favorable to the plaintiff, they could not meet the high standard under Virginia law to establish willful and wanton negligence but they could meet the lower standard for gross negligence.
Volgassov v. Silverstein Props., Inc., 2022 N.Y. Misc. LEXIS 159, Index No. 12355/14 (N.Y. Sup. Ct. Jan. 12, 2022). In personal injury action by worker injured while unloading tractor-trailer, drywall manufacturer shipper who loaded shipment of drywall for transportation by motor carrier was permitted to amend its crossclaim against the motor carrier to add a claim for contractual indemnification. However, this shipper was denied summary judgment on that claim and was not permitted to amend its crossclaim to add a breach of contract action against the motor carrier because such a claim was time-barred. The decision also contains discussion and rulings on New York's unique Labor Laws § 200, 240, & 241 that impose liability upon general contractors, upstream contractors, and statutory employers for work-related injuries.
Teil v. Rowe, 2022 U.S. Dist. LEXIS 10504, C.A. No. 3:21-cv-00917 (M.D. Tenn. Jan. 20, 2022). A Tennessee federal court affirmed the rule (at least in that jurisdiction) that provides a plaintiff may not proceed against an employer on direct negligence claims once the employer has admitted vicarious liability for the actions of its agent. In doing so, the court acknowledged a jurisdictional split on the issue.
Andrews v. D2 Logistics, Inc., 2022 U.S. Dist. LEXIS 9979, C.A. No. 1:21-cv-869. A motor carrier's motion to dismiss punitive damages at the outset of litigation was denied, with the court finding the determination of recklessness and negligent entrustment often involves fact issues that should not be disposed of at the pleading stage. The court also denied the motor carrier's motion for a more definite statement, finding the plaintiff's factual averments in the Complaint were sufficient to give notice to the motor carrier defendant of the allegations against it and that the nature of the claims should be fleshed out in discovery.
Robinson v. Melton Truck Lines, Inc., 2022 U.S. Dist. LEXIS 8308, C.A. No. SA-20-cv-0269 (W.D. Tex. Jan. 18, 2022). A motor carrier's motion for summary judgment on ordinary negligence claim was denied, with the Texas federal court finding fact issues necessitated submitting the ordinary negligence claim to the jury. However, the motor carrier did prevail in having causes of action for gross negligence, negligence per se, negligent hiring, and negligent entrustment dismissed via summary judgment. The motor carrier argued the accident was a "garden variety" MVA with no indication of excessive speed or drug/alcohol use by the driver. The court agreed that based upon the driver's deposition testimony, his actions did not "pose an extreme risk that the plaintiff would be injured." As for the negligent hiring claim, the motor carrier argued the driver held a valid CDL, had a valid medical certificate, the motor carrier conducted a prior employment check, performed a MVR, PSP, and drug-tested him, road-tested him, and the driver's MVR reflected no violations in 3 years prior to hire. In the court's assessment, the fact the driver had had a prior felony conviction from 1990 and that he had been terminated from employment years prior, neither of which he disclosed on his application, would not support the negligent hiring claims. For the negligent entrustment claim, the court found a prior accident involving property damage only was insufficient to support the claim when viewed against the other evidence of the record regarding the motor carrier's pre-employment screens and post-job offer training.
Murphy v. Wise, 2021 U.S. Dist. LEXIS 251284, C.A. No. 2:21-cv-75 (N.D. Tex. Dec. 17, 2021). In a lawsuit stemming from the tow of plaintiff's automobile from a parking lot at the direction of local law enforcement, the Texas federal court held the plaintiff's state law cause of action for trespass to chattel was preempted by 49 U.S.C. § 14501. With respect to the state law intentional infliction of emotional distress claim, the court found the plaintiff had failed to plead the necessary facts to support that cause of action. The court therefore dismissed the entirety of the plaintiff's Complaint.