CAB Bits & Pieces January 2020
Happy Holidays!
Happy New Year and welcome to the "Rolling Twenties!" As the new decade takes effect, and challenges continue in the industry, know that CAB is here to help. As CAB enters its 81st year, we look forward to providing outstanding service and constant innovation to help you "Make Better Decisions." Always know our users are welcome to reach out to us with questions and ideas as they relate to our tools and resources.
Live Training!
Live training is back! Have some new employees? Just want to listen to one of our fabulous team members and ask some questions? Want to see how the tips and tricks are being implemented? Each month we will have scheduled training which will be available to individuals with access to CAB Services. There will be two sessions, a Basic Training and a Focused Training Session. This month on February 11th Mike Sevret will walk you through a Basic Training Session and on February 18th Chad Krueger will be hosting a focused session on CAB for Loss Control. You can register for either session from our Webinars page or by logging in and clicking this link https://subscriber.cabadvantage.com/webinars.cfm
Please feel free to suggest some focused training that you might want to see. We are looking forward to connecting with you during these sessions.
Follow us at: CAB LinkedIn Page CAB Facebook Page
CAB's Tips & Tricks: Chameleon Enhancement
CAB's Chameleon Detector has been a mainstay in the industry to help insurers and agents understand the interrelationship between entities. Our Chameleon Detector is designed to help our users better understand some of the following questions: Does the motor carrier have additional divisions? Might the motor carrier have previously operated under a different name? Was there a merger between entities? Could there be a fraudulent representation? Is there a Freight Forwarder operation?
Over the last month we have enhanced the Chameleon Carrier Detector to now identify matching company representatives. This was a difficult process as there can be numerous duplicate names and motor carriers often have multiple representatives. As an example, simply searching for John Smith as a Representative via Carrier Central will return hundreds of variations of the name John Smith. However, representatives become of value when your standard search is done, you click the Chameleon Carrier® icon and the Chameleon Carrier®Report will identify if a similar name is also identified, which can warrant additional investigation and understanding.


Incorporating a motor carriers' Representative into our Chameleon Carrier® search algorithm has been a priority, as this is a feature that has been suggested by users a number of times. Keep in mind, there are many duplicate names out there. Make sure to cross reference to ensure the duplicate name is not a false positive. That being said, we're happy to provide this additional feature and we certainly hope it enhances your use of CAB.
We at CAB are constantly striving to improve our tools and resources to create value for our users. Please feel free to contact us directly if you have any suggestions as to how we can enhance our services. We are customer driven. Our goal is to help you Make Better Decisions!
This month we report:
FMCSA's CDL Drug & Alcohol Clearinghouse is Open for Business…After Initial Technical Difficulties: Currently users are greeted with this notice: "If you are an employer currently experiencing technical difficulties accessing the Clearinghouse and are unable to conduct required pre-employment queries, you may hire a driver using solely the procedures set forth in 49 CFR 391.23(e). Once FMCSA has determined and announced that users are able to access the Clearinghouse, pre-employment queries must also be conducted as required by section 382.701(a)." The effective date for the clearinghouse was January 6, 2020, but the site crashed as much of the industry attempted to use it in the initial days of the system. Ultimately, employers are given a pass, but they will need to ensure proper documentation. For more information on the CDL Drug & Alcohol Clearinghouse click here.
Entry Level Driver Training Rule Delayed Until February 22, 2022:  The FMCSA is amending its December 8, 2016, final rule, "Minimum Training Requirements for Entry-Level Commercial Motor Vehicle Operators" (ELDT final rule), by extending the compliance date for the rule from February 7, 2020, to February 7, 2022. The agency noted the action will provide FMCSA additional time to complete development of the Training Provider Registry (TPR). The TPR will allow training providers to self-certify that they meet the training requirements and will provide the electronic interface that will receive and store entry-level driver training (ELDT) certification information from training providers and transmit that information to the State Driver Licensing Agencies (SDLAs). The extension also provides SDLAs with time to modify their information technology (IT) systems and procedures, as necessary, to accommodate their receipt of driver-specific ELDT data from the TPR. According to the release, the FMCSA is delaying the entire ELDT final rule, as opposed to a partial delay as proposed, due to delays in implementation of the TPR that were not foreseen when the proposed rule was published.  For additional information on the final rule amendment, click here.
2019 Pocket Guide to Large Truck and Bus Statistics has been released by the FMCSA: The guide highlights the Agency's role in collecting and analyzing data on large trucks and buses. Intended as a compact reference, it is a compilation of statistics from the overall state of the industry to enforcement activity, details on traffic violations and other incidents, the costs of crashes, and more. These data are used in support of their mission to prevent commercial motor vehicle-related fatalities and injuries. An example of the data provided is visible via the map below that details the Locations of Fatal Large Truck and Bus Crashes, 2017. The Pocket Guide can serve as a valuable, compact resource for industry representatives, Federal agencies, and other individuals interested in motor carrier safety regulations and performance data. The guide can be accessed here.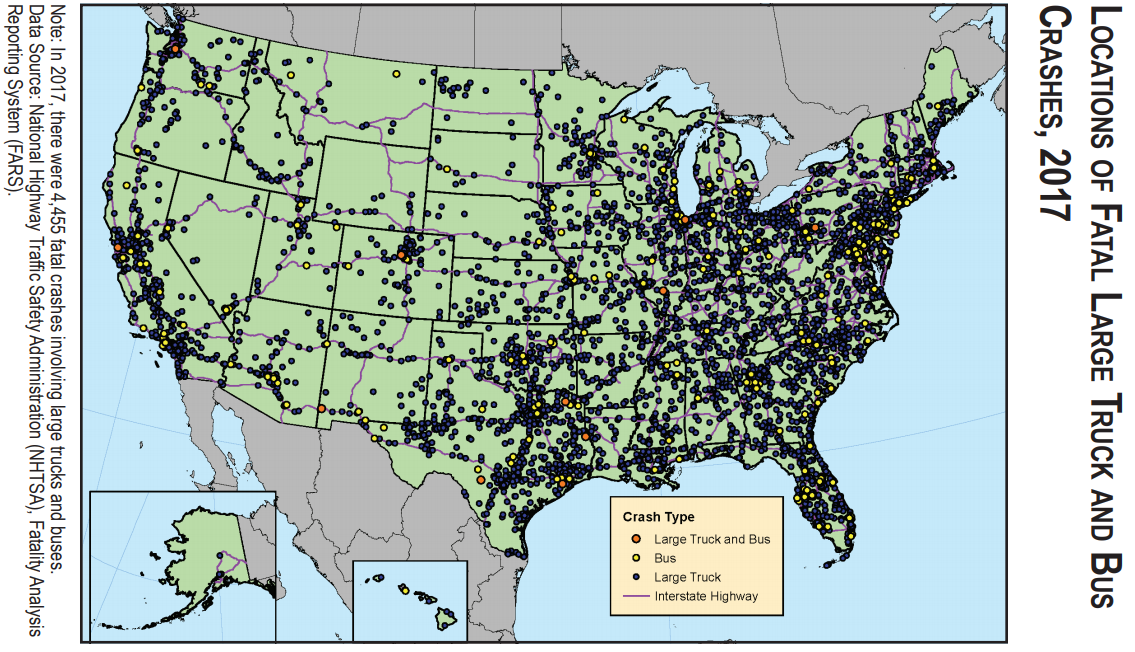 Indiana State Police finds Truck 96,300 Pounds Overweight: A truck inspection January 16, 2020 by Commercial Vehicle Enforcement Division (CVED) Trooper, led to the discovery of a semi-tractor pulling double trailers that was 96,300 pounds overweight. That is a whopping total of 176,300 when the normal truck weight is limited to 80,000 pounds. This weight likely exceeded the braking capacity and presumably the overall frame and structure of the vehicle making the vehicle difficult to accelerate, brake and maneuver. The CVED Trooper was driving through Rushville just before 11 a.m. that morning when he noticed a southbound semi pulling double trailers known as a "Michigan Train" south bound on Main St. at Park Blvd. The fines for the overweight violation alone are just under $14,000. The truck out of Waterloo, Indiana, was impounded and the driver cited for the overweight violation and no truck registration. The driver was also issued a warning for no federally required markings or numbers on the sides of the truck. The steel coils, which had been in route from Butler, Indiana to Madison, Indiana were impounded with the truck until they can be properly unloaded and legally loaded onto other trucks. More information on this inspection can be found here.

FMCSA Announces Input on Design of a Study to Identify Factors Contributing to FMCSA Reportable Large Truck Crashes: The FMCSA seeks information on how best to balance sample representativeness, comprehensive data sources, ranges of crash types, and cost efficiency. The FMCSA is trying to better understand and address why large truck crashes and fatalities have been increasing in recent years. Eventually, this study will help improve FMCSA and its State partners' ability to: 1. Evaluate crashes involving large trucks and identify emerging trends; 2. Monitor crash trends and identify causes and contributing factors; and 3. Develop effective safety improvement policies and programs. Additional information on the Request for Information (RFI) concerning large truck crash causal factors study can be found here.
CAB Inspection Selection System (ISS) Data Updated as of January, 6, 2020: The first table shows ISS Values, for each power unit range; the number of carriers with "safety" scores in the green, yellow, and red ranges, and the total number of carriers with a "safety" score or an "insufficient data" score. The second table shows the data as percentages, out of carriers with "safety" scores or out of all carriers as appropriate. A carrier's number of power units is from the most recent data we have for that carrier. Carriers with no or unknown number of power units are not included.

Report Rates Best States for Highway Safety Laws: For the fourth year in a row, Rhode Island has topped Advocates for Highway and Auto Safety's list evaluating states' road safety enforcement efforts. Advocates, as the group is known, released its 2020 Roadmap of State Highway Safety Laws on Jan. 23. Advocates is a consortium of consumer, public health, safety and insurance firms that supports policies and programs designed to promote highway safety. Rhode Island, having enacted 13 of the recommended safety laws, received the top score. The state lacks only an all-rider motorcycle helmet law, nighttime restrictions to limit unsupervised teen driving from 10 p.m. to 5 a.m. and regulations on the age limit for unrestricted license use. An unrestricted license allows teens to drive without the supervision of a guardian or instructor. Advocates urges for unrestricted licenses to be granted no sooner than age 18. Click here for the full press release and report.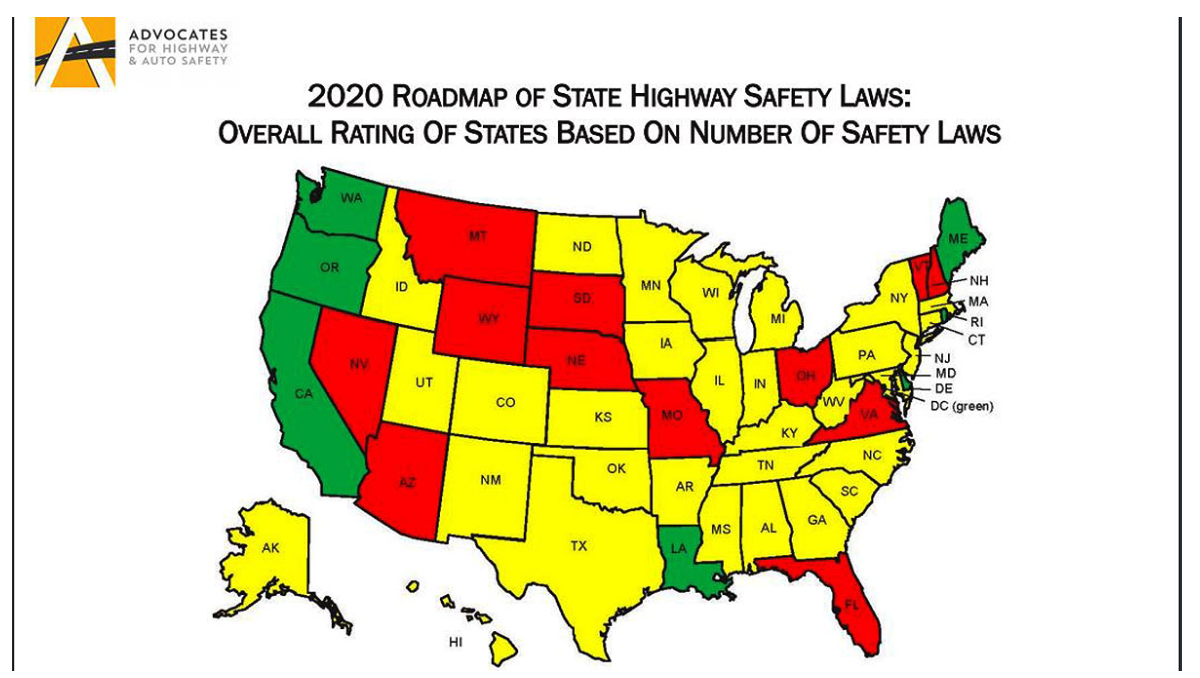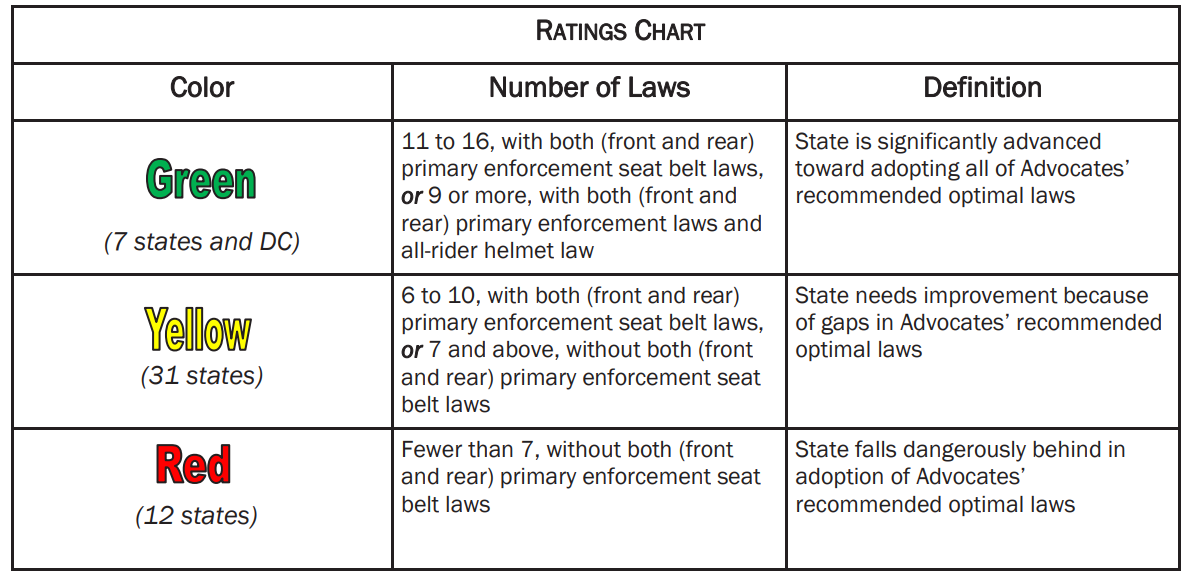 FMCSA Announces Increase in rate of random drug testing: 2018 FMSCA Drug and Alcohol testing survey results increased to a 1.0% positive rate for controlled substances random testing, up from 0.8% in 2017 and 0.7% in 2016. Regulations mandate that the FMCSA increase the minimum annual random testing percentage to 50%, up from 25% starting on January 1st of the following year when the rate reported is equal to or greater than 1.0%. This increased testing is expected to result in an estimated $50M to $70M increased costs to the industry in 2020. For more information on the announcement click here.
CASES
Auto
The Supreme Court in Florida held that a trucking company could be liable for injuries to a tow truck operator who was damaged from contact with spilled battery acid. The court reversed a prior ruling that held that the Pollutant Discharge Prevention and Control Act did not support a claim for personal injuries concluding that subsequent changes to the law required a different result. Lieupo v. Simon's Trucking, 2019 WL 6904130
Both a truck broker and an affiliated motor carrier had summary judgment in their favor affirmed by the 7th Circuit. The court agreed that the evidence showed that the broker had hired an independent motor carrier who was the only one responsible for the truck accident. Under Illinois law there was insufficient evidence that the broker asserted any control over the motor carrier. Kolchinsky v. Western Dairy Transport, 2020 WL 58294.
Can a motor carrier be liable for the punitive damages claim asserted against a driver? The Court of Appeals in Louisiana concluded that an employer may be held liable for exemplary damages awarded against an employee under La. C.C. art. 2315.4, particularly, where the evidence shows that the employer contributed to or might have prevented the employee from driving while intoxicated. The court did, however, grant judgment to the motor carrier on the claims for negligent supervision, training and entrustment as vicarious liability was admitted. Landry v National Union Fire Ins Co. of Pittsburgh, 2019 WL 7288685
Having a BOC-3 filing establishing an agent for service of process in the state was not enough to create jurisdiction in the Southern District of Ohio. While the motor carrier could not completely get the case dismissed, it was transferred to the correct venue. Stehle v. Venture Logistics, 2020 WL 127707
A jury verdict against a trucking company was upheld by the Court of Appeals in Wisconsin for damage to a private bridge which collapsed under the weight of a truck.. The court agreed that the bridge owner owed no duty to the driver, dismissing the counterclaim for damages and affirming the damages awarded to the bridge owner for the loss of the bridge. Farkhauswer v. Hestad, 2020 WL 64371
When an individual hit the side of a truck, causing injury to himself and the truck driver he was not permitted to recover for his alleged injuries. The Court of Appeals affirmed the grant of summary judgment to the truck driver, concluding that there was no question but that the passenger vehicle operator was the sole fault for the accident. Chaney v. Martin, 2020 WL 114632
Over in Texas a motor carrier was successful in transferring a personal injury action to a different division in the Northern District of Texas. The court concluded that both the private and public factors which should be considered supported transfer. The court found that, as a practical matter, transferring the case to the Amarillo Division, closer to where the incident occurred and where non-party witnesses are likely to be located, would make for a more expeditious and inexpensive trial. Leighty v. Stone Truck Line, Inc., 2020 WL 85152
Some litigations seem to never get resolved. The Appellate Division in New York is still grappling with a case arising from a truck accident in 2009, over 10 years ago. A police officer was struck by a truck driver. The interrelationship of all of the parties involved in the transportation continues to be in dispute even after 10 years. The court granted judgment to the plaintiff on liability against the driver for some causes of action. The court denied judgment to some of the defendants, concluding that they failed to sustain the burden of establishing that they had no relationship to the driver. The Graves Amendment was held to apply to claims against the tractor and trailer owners who had leased the equipment to the motor carrier. Cioffi v. S.M. Foods, 2019 WL 7160593
Despite false driver logs, failure to take a drug test and striking plaintiff, the Northern District in Texas granted summary judgment to a motor carrier for all claims except a claim of negligent training. The court held that there was no material fact to support claims for negligent hiring, entrustment or punitive damages. Baird v. Shagdarsuren, 2020 WL 208815
Summary judgement was the proper remedy for an insurer when the tractor trailer involved in an accident was not covered under the auto policy. Quick decision by the court in the Western District of Virginia, Progressive Northern Ins Co. v. Jones, 2020 WL 216011
A truck repair facility was permitted to assert the arbitration clause in its repair contract against the truck driver and an injured plaintiff who sought recovery for alleged improper repairs which led to the accident. The Middle District in Alabama held that both parties essentially sought a claim for breach of contract of repair which was dependent upon the terms of the contract. Since the contract had an arbitration clause the case was bounced to arbitration. Griggs v. Kenworth of Montgomery, Inc. 2019 WL 7190610
While the Northern District of Texas left most causes of action to continue against a motor carrier, including negligence, negligent entrustment, hiring, training, supervision and gross negligence, it did conclude that a possible violation of a state regulation on lane change would not give rise to a claim of negligence per se. The court also concluded that the gross negligence, if any, of the driver, was not ratified by the motor carrier, dismissing that claim against the motor carrier. Hanan v. Crete Carrier Corporation, 2020 WL 42269
What happens when improper gravel is potentially put on a roadway and a truck accident occurs? The District Court in North Dakota considered that issue, granting summary judgment to the gravel supplier concluding that there was no basis for a claim that they provided defective gravel. However, the court denied summary judgment to the contractor who put down and maintained the road, concluding that there were questions of fact as to the events and the cause of the accident. Rice v. North Star Energy & Construction, 2019 WL 7372434
The applicability of the employee exclusion was considered by the Northern District in Ohio. The court concluded that questions of fact remained to be resolved on whether the driver could be considered a "temporary employee" under the trucker's general liability such that the Employer's Liability Exclusion would not apply. The fact that the driver was determined to be an employee under worker's compensation was not determinative on the issue of the applicability of the exclusion. The court also denied the insurer's request for a ruling that certain parties were not insured under the policy. P&I Motor Express, Inc. v. RLI Insurance Co., 2019 WL 7282098
The father, and owner of a trucking company, was not personally responsible for the assault his son committed upon the plaintiff while acting as an employee of the trucking company. The Court of Appeals in Ohio vacated a default judgment entered against the father. Gibbs v. Burley, 2020 WL 105096
A driver who was injured when struck by a passenger vehicle while he was on a ramp to the trailer was permitted to collect under the SUM endorsement in the motor carrier's policy. The court found a matter of law, that the driver was "upon " the tractor-trailer at the time of the accident such that he was "occupying" the tractor-trailer within the meaning of the SUM endorsement. He had stepped upon the ramp which was attached to the tractor-trailer, and was struck by the minivan while his right leg was still on the ramp, and stepping down with his left leg. Although the driver had been away from the tractor trailer during the work day, his testimony established that at the time of the accident, he was in physical contact with the vehicle, such that he was "occupying" it. Utica Mutual Insurance Co. v Steward, 2020 WL 216755
The Superior Court in Delaware concluded that a plaintiff, who was seeking damages caused when he aided a party injured by a collision with the defendants, had failed to take reasonable steps to complete service on a truck driver and dismissed the action against the driver. The court did find, however, that the principle of a trucking company, and his company should be deemed served by reason of this active avoidance of service. DeShields v Bolton, 2020 WL 242482
Cargo
The District Court in New Jersey granted a motor carrier's motion to dismiss a truck broker's claim for breach of contract and unjust enrichment (for the payment of freight charges). The court determined that the causes of action were preempted under the Carmack Amendment, leaving plaintiff an opportunity to amend the complaint to assert a claim under the Carmack Amendment. Ultra Logistics, Inc. v. A First Class Solutions, LLC., 2019 WL 7047243
A suit against a motor carrier and its related brokerage operation failed in the Third Circuit. The claim arose from the theft of a shipment of copper by an individual representing himself as a motor carrier. The court upheld the defense verdict that the Carmack Amendment was the exclusive remedy, that there was no evidence that the motor carrier company was hired as a carrier, or that the broker undertook to be the transporting carrier. AMG Resources Corporation v. Wooster Motor Ways, Inc. 2020 WL 110230
The Northern District of Ohio dismissed a Carmack Amendment claim brought by a broker against a motor carrier concluding that the broker lacked standing to bring the claim. The court then declined to exercise supplemental jurisdiction over the broker's state law claims, sending the rest of the case to state court. Armark v. UPS, 2020 WL 248976
Worker's Compensation
Premium audits are always a testy issue. The Appellate Division in New Jersey is considering whether drivers classified by the motor carrier as independent contractors are employees for the purpose of worker's compensation and the collection of adequate premium. The motor carrier contended that it was the company from whom it hired the drivers who was to have the worker's compensation coverage. When the third party supplier moved to dismiss the action, asserting a New York venue in its contract with the motor carrier, the court rejected the request. The court concluded that public policy grounds permitted it to compel the matter to proceed in New Jersey. Travelers Property & Casualty Co. of America v. HES Trans, Inc., 2019 WL 7116153
A co-driver who was asleep in the tractor trailer when there was an accident was unable to avoid the preemptive effect of the exclusive remedy of worker's compensation. The Western District of Oklahoma held that the fact that the driver was in his required off duty hours did not change the fact that he was still an employee acting in the course and scope of his employment. Phillips v. Brittian, 2020 WL 265211
Thanks for joining us,
Jean & Chad