CAB Bits & Pieces May 2021
Welcome to the unofficial start of Summer!
Summer is pretty much upon us and things are at least heading towards normal…whatever that ends up being. This is generally a big month for graduations and the like. Enjoy the time with family and friends. Keep in mind, Memorial Day is not just the unofficial start to summer, but an opportunity for us to honor those service members that have fallen in the performance of their military duties.
Stay safe and have a great month!
CAB Live Training Sessions
Tuesday, June 8th @ 12p EST: Sean Gardner will present on Intro to CAB: Flow and Navigation. This is a great session for new users or folks looking for a refresher. Sean will provide an overview of the basic flow and navigation of the overall CAB environment. Don't miss out on this opportunity to learn about this powerful CAB feature. Click here to register.
Tuesday, June 15th @ 12p EST: Chad Krueger will present, the BASICs Calculator: Tips & Tricks. The BASICs Calculator is one of our most powerful tools. If you're tyring to help your customer get a handle on their BASIC scores and identify areas of improvement, It's quickly becoming a must-have resource. Don't miss out on this opportunity to learn more about the BASICs Calculator. Click here to register.
CAB subscribers can register for either or both sessions from our Webinars page or by logging in and clicking the link below. https://subscriber.cabadvantage.com/webinars.cfm
As a quick reminder, last month's sessions, Adding Motor Carriers to CAB List™ and CAB Advanced Training:m Tips & Tricks have been uploaded to our Webinars Page if you missed them!
Follow us at CAB Linkedin Page CAB Facebook Page
CAB's Tips & Tricks: BASICs Calculator-Advanced Projections Simulator Line Graph
Based on user feedback, our Development Team has incorporated a very useful line graph when the Advanced Projections Simulations are run in the BASICs Calculator. Users desired a visual representation of how the projections would progress via the projections. This visual can be shared by producers, account executives, safety services, and others with policyholders, customers, and prospects to understand how their BASICs Scores and ISS Values are affected by the different variables available in the Advanced Projections Simulator. Are you wondering how quickly a company's scores could improve or drop out of Alert status? Do you want to share how a company's scores look 6 months out, based on today's data using different variables? Run a simulation and share it with them. It's a great discussion point and a wonderful way to provide a different perspective to your clients.
THIS MONTH WE REPORT:
"Significant threat" of cargo theft activity Memorial Day weekend: Cargo theft recording firm CargoNet says it expects a "significant threat" to freight transportation this upcoming Memorial Day weekend. The firm reviewed data from 2016 to 2020 for the Thursday prior to Memorial Day to the Wednesday after. There were 143 events reported with an average of 29 events per year. Additionally, activity for the 2020 Memorial Day weekend increased 35% from the same weekend in 2019. The stolen cargo in each event was worth an average of $308,308 – due in part to five thefts that exceeded $1 million in stolen goods. CargoNet says 20% of recorded thefts occurred on Friday, and a significant number of thefts also occurred on Sunday (16%) and Monday (15%). To continue this article, click here.
Lawmakers introduce another bill to require speed limiters on larger trucks: On May 25, Rep. Lucy McBath and Rep. John Katko introduced the Cullum Owings Large Truck Safe Operating Speed Act which would "codify into law a "speed limiter" rule that has been under consideration for more than a decade." The detail of the bill is not yet available, however, similar legislation introduced under the same name in 2019 proposed requiring speed limiter technology that would limit commercial vehicles to 65 m.p.h., or 70 m.p.h. Additionally, it would require the use of an adaptive cruise control system and an automatic emergency braking system. The legislation was introduced by former Senator Johnny Isakson. The American Trucking Association (ATA) has reiterated its support for mandating speed limiter devices in a letter to the Secretary of the USDOT for vehicles over 26,000 lbs. The ATA suggested a mandated speed limit of 60, 65, or 68 MPH. The text of the previous bill is available here.
Best practices for controlling CSA maintenance violations: No fleet likes to be dinged for a CSA maintenance violation. If the violation is severe enough a truck can be taken out of service, fines can be levied, and a bad CSA score can scare shippers away. The good news is there are some steps you can take to help reduce your number of CSA violations. The nine steps include; pre-trip inspections, post-trip inspections, make repairs found during driver inspections, preventative maintenance inspections, scheduled preventative maintenance services, special maintenance programs, random inspections, and conducting root cause analysis. Joe Puffs, the Vice President of Truck Technology and Maintenance for NationalLease, discusses the nine steps and provides insight regarding implementation. To review the complete article, click here.
CAB Calculates Inspection Selection System Data: Do you ever wonder how motor carriers fit into the ISS Categories of Pass, Optional and Inspect? Below is a breakdown based on power units and ISS category, by total carriers and percentage. This data is based on snapshot date of 5/11/21. The first table shows, for each power unit range; the number of carriers with "safety" scores in the green, yellow, and red ranges, and the total number of carriers with a "safety" score or an "insufficient data" score. The second table shows the data as percentages, out of carriers with "safety" scores or out of all carriers as appropriate. ISS scores are as of the snapshot date listed at the top of the section. A carrier's number of power units is from the most recent data we have for that carrier. Carriers with no or unknown number of power units are not included.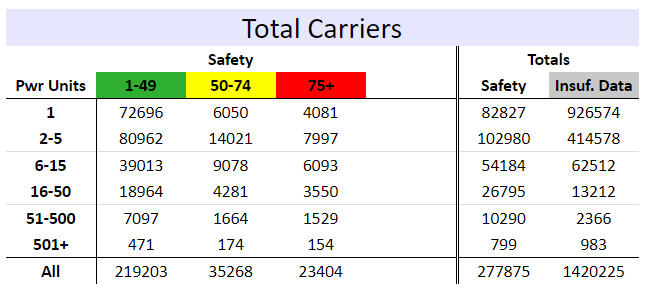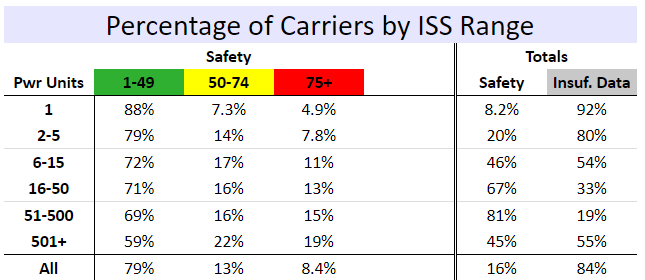 Canada's ELD mandate effective June 12 with one-year of educational enforcement: The Canadian Council of Motor Transport Administrators (CCMTA) detailed the following on May 5th: All jurisdictions remain committed to the federal Electronic Logging Devices (ELD) mandate, including third-party certified devices. Mandatory use of these devices will help ensure federally regulated commercial carriers operating in Canada including those that cross the border into Canada, will continue to drive within their hours of service. The use of ELDs will result in more efficient mechanisms to accurately log working hours. The CCMTA developed an approach for jurisdictions to consider when adopting an enforcement strategy for the ELD mandate coming into force on June 12, 2021. Jurisdictions plan to support the mandate through a period of progressive enforcement without penalties including elevated education and awareness until June 12, 2022. The full message can be reviewed here.
New Hampshire state troopers discover 709 violations during CVSA International Roadcheck Event: During the 72-hour event from May 4th-6th, Troopers inspected a total of 356 commercial motor vehicles. Troopers issued 25 CVSA decals to commercial motor vehicles that passed a Level I inspection where no critical violations were found according to the North American Standard Out-of-Service Criteria. Troopers also discovered 709 violations, of which 125 were so severe that they created a condition where the vehicle or its driver was placed out of service. In total, 56 vehicles were placed out of service for critical safety violations, while 29 drivers were placed out of service for violations including possessing drugs, possessing alcohol, driving while not physically qualified, failing to maintain a record of driving hours, not holding the proper class of driver's license, operating after suspension, and for continuing to drive after being declared out of service. Troopers issued 63 citations and made one arrest as a result of commercial motor vehicle inspections. Click here for the complete news release.
Specific sleep apnea screening criteria cut in the latest draft medical examiner handbook: The latest draft handbook for certified medical examiners no longer contains previously proposed details on screening and treating sleep apnea that were part of a prior draft. The withdrawal of those detailed recommendations alarmed some members of the Federal Motor Carrier Safety Administration's Medical Review Board, which met May 20. "These medical examiners would be in a terrible position if we didn't arm them" with the detailed tools needed to do their job, said board member Dr. Albert Osbahr. He is medical director for occupational health services at Catawba Valley Medical Center in North Carolina. "Industry doesn't like it, but they're not the ones doing the exam. It's myself and colleagues who are on the firing line." To read this complete article, click here.
Trade groups call on House Democrats to reject insurance increases: More than 60 organizations representing the trucking, agriculture, construction, manufacturing, materials, and towing industries are petitioning members of the U.S. House of Representatives to reject an increase of motor carriers' minimum liability insurance requirements. In letters sent to the Blue Dog Coalition of fiscally-responsible Democrats and the Problem Solvers Caucus – both of which seek commonsense solutions to various issues – the coalition explains that an insurance increase "is wholly unnecessary" and "would do nothing to improve highway safety and would have a severe negative impact" on their members due to significantly higher operational costs. The letters state that federal research indicates the current $750,000 minimum requirement covers damages in 99.4% of crashes involving commercial vehicles. For the complete article, click here.

CASES
Auto
Does the MCS-90 apply to intrastate transport? The Court of Appeals in Indiana concluded that it did, based upon the argument that Indiana law required that motor carriers meet the same levels of insurance for intra-state carriage and the policy contained the standard clause that it was in compliance with the applicable state law. The court also held that the endorsement was applicable when there was no cargo on the truck as the driver was on his way to pick up a shipment.
Progresive Southeastern Insurance Co. v. B&T Bulk, LLC.,
2021 WL 1747897
Summary judgement was awarded to the general liability carrier for a trucker in the Northern District of Texas for claims asserted by a shipper claiming rights under the policy. The court held that the shipper failed to give timely notice to the insurer and further concluded that the auto liability exclusion was applicable.
Liberty Insurance Corp. v. Arch Insurance Company,
2021 WL 1950037
A risk retention group is not subject to the direct action statute in the Southern District of Georgia. The court dismissed the insurer from the suit, which also preserved diversity, keeping the case in the court for resolution. The excess insurer of one of the truckers was not so lucky, as the court concluded that the plaintiff was entitled to discovery on whether the insurer was truly excess and therefore not subject to the direct action statute.
McIntire v. Ventura,
2021 WL 1947867
A policy endorsement which required that all litigation arising out of the commercial auto policy be brought in the state of Nebraska was not enforced by the District Court in Minnesota in an action in which the trucker sought coverage for an accident. The court rejected the insurer's motion to dismiss concluding that there were substantial questions on whether the policy was a contract of adhesion and the validity of the claim.
Sunlight Logistics, Inc. v. County Hall Insurance Co.,
2021 WL 1946658
We talk often about how interrelationships between transportation companies can often result in increased litigation costs, and possible liability. The Eastern District of Virginia agreed that when there was ample evidence to create a question as to which of two companies was actually involved in brokering a shipment the defendant was not entitled to dismissal of the suit. The court also agreed that there was a plausible claim for vicarious liability when the defendant exercised some degree of control over the motor carrier. The court did agree to dismiss a claim for wilful and wanton negligence
McCann v. Everette,
2021 WL 1951130
There was no evidence to support a claim of wantonness against a truck driver when he made an effort to confirm that there were no other vehicles in his way before turning. The Northern District of Alabama granted summary judgment to the driver. The motor carrier also received judgement on claims of negligent entrustment, hiring, training, supervision and retention when plaintiff had no evidence that the motor carrier knew the driver was incompetant. In addition, the parent company of the motor carrier was not liable for the acts of the motor carrier when it did not control the acts of the motor carrier.
Turner v. Kinds.
2021 WL 1626745
A motor carrier was entitled to summary judgment according to the Supreme Court of Louisiana. The court held that the plaintiff could not support a claim that the truck driver was at fault when he stopped in a lane of traffic, put on his blinker and was waiting to turn into a driveway when the plaintiff decedent struck the rear of the truck. There was no evidence that he had stopped, parked, or left his vehicle standing in the roadway, which was prohibited by Louisiana law.
Hester v. Walker,
2021 WL 1920965
The Western District of New York concluded that a motor carrier was not entitled to summary judgment on the theory that the accident was caused by an emergency situation The court held that "a tractor trailer blocking both lanes and vehicles blocking the shoulders of the highway might be an unforeseen or sudden condition depending a great deal on how much notice the driver had before encountering it, how well prepared the vehicle was to be safely stopped, and the speed of travel considering the road conditions at the time".
Lavellee v, Wimberly, 2021 WL 1929169
The motor carrier also fared well in the Western District of Texas. The court, through the Magistrate, recommended partial summary judgment on plaintiffs' direct claims of negligent hiring; negligent training, supervision, and retention; negligent entrustment, maintenance, and inspection; negligent implementation of a safety program and monitoring against the motor carrier as well as the claims for gross negligence claims against both the carrier and driver and the negligence per se claim against the driver. The plaintiff simply could not present evidence to support those claims.
Machado v. Dyer,
2021 WL 1840916
A plaintiff was not permitted to assert direct claims against a motor carrier who conceded vicarious liability for the actions of a driver The Eastern District of Missouri denied the request to amend the complaint, also rejecting the plaintiff's request to assert new claims against the driver three years into the suit.
Frost v Valdez-Gonzalez,
2021 WL 1698743
Such luck did not carry over to the motor carrier in the Court of Appeals in Ohio. The court held that the plaintiff had properly asserted claims against a trucking company for negligent hiring and retention. As the motor carrier was in default in responding to the complaint the default judgment was valid.
Gibbs v. Burley Trucking, LLC.,
2021 WL 1819831
Plaintiff's motion for reconsideration on the granting of summary judgment to the motor carrier on a claim for punitive damages failed in the District Court in New Jersey. The case arose from a truck train collision, with a number of train passengers suing the trucking company. The court rejected plaintiff's request, which was based only on plaintiff's disagreement with the court's decision.
Jarka v. Holland,
2021 WL 127252
When all parties agree that the truck driver was acting within the scope of his employment immediately before and during the accident, plaintiffs' claims for direct liability against the motor carrier for negligent hiring, training, supervision, and retention fail. The Western District of Oklahoma dismissed the claims.
Estate of Ratley v. Awad,
2021 WL 1845497
Cargo
Quiet month on the cargo front. No reported decisions
Worker's Compensation
A truck driver was permitted to seek recovery from the consignee when he was injured during the unloading of the vehicle. The Supreme Court of Idaho agreed that the consignee was not a statutory employer of the driver. The exclusive remedy of worker's compensation under Idaho law did not preclude a direct claim against the consignee for injuries.
Kelly v. TRC Fabrication,
2021 WL 1603734
Thanks for joining us,
Jean & Chad