How are we already two months into 2022?
As many of you are aware, Jean Gardner has retired and her last day as CAB CEO was earlier this month. Jean has been a titan within CAB and our industry for many years and she will surely be missed. There is no replacement for Jean as she is one of a kind, but she has mentored us all well and CAB will continue to grow and innovate as we always have. In case you missed it, Jean did conduct a final CAB Claims Training webinar on February 15th. For those of you that may have missed it, you're welcome to review it on the CAB Webinars page by clicking, here.
Please join us in wishing her a long and happy retirement!
Have a great month!
CAB Live Training Sessions
Tuesday, March 8th @ 12p EST: Chad Krueger will present a review of the BASICs Calculator including recent enhancements. The BASICs Calculator is a very powerful safety and loss control tool that allows the user to identify pain areas within a motor carrier's fleet. Agents and Underwriters find great value as it can help clarify how a motor carrier is progressing. Run scores simulations, forecasts, & more! Click here to register.
Tuesday, March 15th @ 12p EST: Mike Sevret will present a new topic, CAB for Factoring. This is an area of growth for CAB and we've seen a number of organizations reach out to lean more about tools and resources available to companies involved in factoring. Click here to register.
Don't forget, you can explore all of our previously recorded live webinar sessions on our website!
Follow us at CAB Linkedin Page CAB Facebook Page
CAB's Tips & Tricks: Out-of-Service Trends Graph
Many of our users have noticed that we have changed the look and feel of some of the graphs you've grown to love in the CAB Report. We've done this for a number of reasons, much of which has to do with making them as clear and visually concise as possible.
The Out-of-Service Trends graph in the Out of Service / SAFER tab was recently changed from a line graph to a bar graph. The purpose for the change is to provide a clearer picture of the exact number of events in the Bi-Annual Summary (6-months) over the 36 months displayed in each of the graphs. As you hover over the bar graphs you will now get a precise count as to the number of events in each 6-month period. Keep in mind that bar represents the total inspections or violations and the red represents the number of Out-of-Service inspections or violations, depending on if your focusing on the Inspection or Violation History graph.
Whereas the new layout may take some getting used to, rest assured, the updated bar graph provides a clear and concise representation of the inspection and violation history over the last 36 months.
You are encouraged to reach out via phone, email or via the "Contact Us" button in the My Account area of the menu.
THIS MONTH WE REPORT:
FMCSA Launches Training Provider Registry to Ensure Entry-Level Truck and Bus Drivers Complete Training that Meets New Federal Standards: The U.S. Department of Transportation's Federal Motor Carrier Safety Administration (FMCSA) launched its Training Provider Registry as the final step in implementing new entry-level driver training standards for individuals seeking to obtain a commercial driver's license (CDL) or certain endorsements. The Training Provider Registry is an online database that aims to improve highway safety by: Maintaining the list of registered training providers that have self-certified they meet Federal training requirements; and Retaining a record of all individuals who have completed the required entry-level driver training. For more information, click here.
More charged in Louisiana staged-accident scheme targeting fleets, insurers: U.S. Attorney Duane A. Evans of the Eastern District of Louisiana announced this week seven more indictments in the widespread staged-accident fraud scheme targeting trucking carriers and their insurance companies, bringing the total number of indictments in the case to 47. Click here for more.
New ATRI Research Evaluates Motor Carrier Strategies for Responding to Rising Insurance Costs: The American Transportation Research Institute (ATRI) today released a new report analyzing trucking industry impacts from the rising costs of insurance. This analysis, a top priority of ATRI's Research Advisory Committee, utilized detailed financial and insurance data from dozens of motor carriers and commercial insurers. The report assesses immediate and longer-term impacts that rising insurance costs have on carrier financial conditions, safety technology investments and crash outcomes as well as strategies used by carriers to manage escalating insurance costs. The study found that carrier strategies included decreasing insurance coverage levels, raising deductibles and/or Self-Insurance Retention (SIR) levels, and decreasing investments in other cost centers. In spite of this increased liability exposure, out-of-pocket incident costs and carrier crash involvement remained stable or decreased among a majority of respondents. For more informaiton on this research, click here.
AT&T 3G sunset to impact over 350,000 Class 8 vehicles: Mega telecommunications company AT&T began the sunset of its 3G network Feb. 22 at which point modules and devices that request 3G voice and data-only services from the AT&T network will no longer work – a wind down that will affect more than 350,000 Class 8 vehicles. "It is entirely likely that many fleets that have not yet transitioned will be unable to purchase, remove and replace devices prior to February 22," said Susan Beardslee, supply chain and logistics principal analyst at ABI Research. "This will result in serious compliance, safety, vehicle health and operational capability challenges to an industry that moves roughly 72.5% of the nation's freight by weight and during a time of rolling, crucial shortages of consumer and business products." Other network shutdown dates are: Sprint 3G (T-Mobile) March 31; Sprint LTE (T-Mobile) June 30; T-Mobile 3G July 1; Verizon 3G: Dec. 31. For more on this topic, click here.

FMCSA shuts down Texas-based carrier following numerous regs violations: Adversity Transport, Inc., a one-truck carrier based in Texas, has been effectively shut down by the Federal Motor Carrier safety Administration following violation of a standing out-of-service order, which was issued for failing to permit an investigation into its safety fitness. A subsequent review of the carrier's roadside safety performance record found the company to be "egregiously noncompliant with multiple deferral safety regulations," according to the FMCSA. Read the rest of the article here.
Government Aims to Streamline CDL Process: Members of congress seek to streamline the credentialing process of aspiring truck drivers to obtain their commercial driver licenses with updated guidance from regulators and two bills, the LICENSE Act and the TSA Security Threat Assessment Application Modernization Act.
The LICENSE Act would:
• make two waivers previously issued by the FMCSA permanent, allowing state driver licensing agencies to use third-party testers to administer a CDL knowledge test, in addition to the skills test, which supports revised FMCSA regulatory guidance
• allow state to administer driving skills test to out-of-state applicants
• allow commercial learners permit holders who have passed the CDL skills test but have not yest received their physical credentials to drive with a CDL holder in the truck
The TSA Security Threat Assessment Application Modernization Act would:
• require the TSA to streamline the application and renewal process for transportation workers applying for multiple credentials
• establish a reduced fee structures
Learn more about this legislation here.

Tire anomaly technology is more than a compliance and maintenance tool. It's also a safety tool: The FMCSA identifies tire anomalies as the most frequent vehicle-related factor in crashes, and a technology deployed by International Road Dynamics Inc. in 2018 helps prevent this. The Tire Anomaly and Classification System (TACS) can detect flat, missing, mismatched, or underinflated tires at rates much higher than visual inspection. Learn more about TACS here.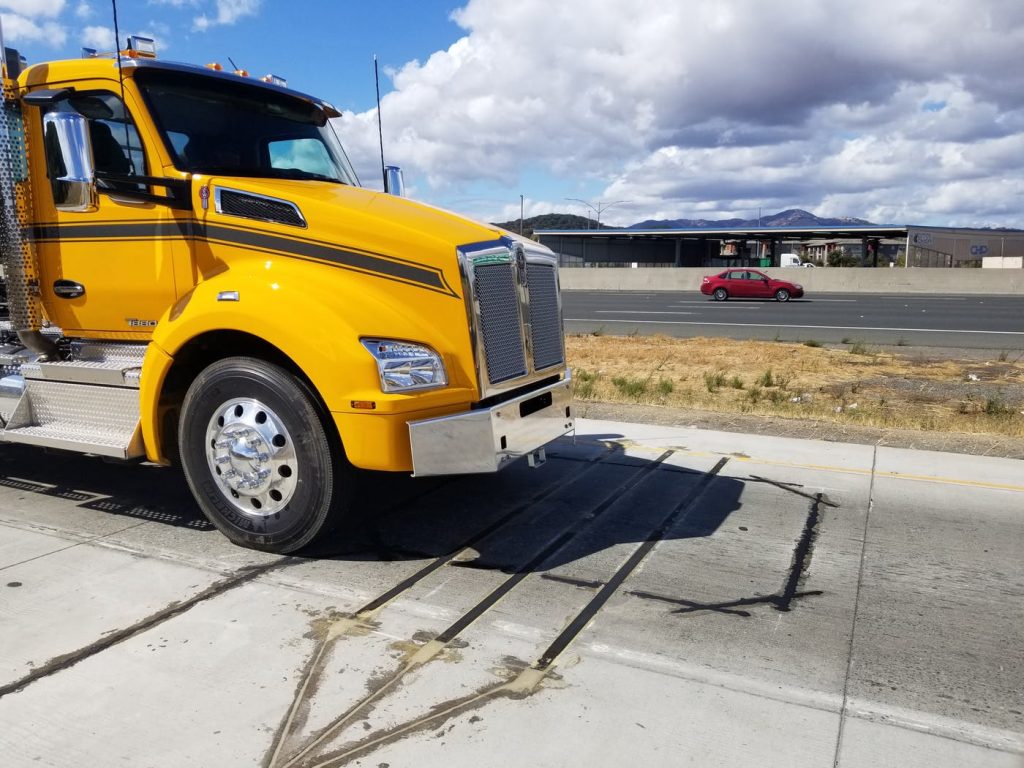 2021 to go down as a record year for carrier earnings: Many trucking and logistics companies reported some type of record revenue or income in 2021, despite facing challenges such as labor and equipment shortage and regulatory uncertainty. Below are revenue reports from major companies.
• Covenant Transportation brought in $1 billion in revenue in 2021, compared to $838.5 million in 2020.
• Forward Air Corporation earned $1.6 billion in revenue in 2021, an increase from 2020's $1.2 billion.
• While Heartland Express actually reported a drop in revenue in 2021, their income increased from $103.4 million in 2020 to $105.4 million in 2021.
• J.B. Hunt reported $12.2 billion in revenue in 2021, compared to $9.6 billion in 2020
• Knight-Swift Transportation Holdings Inc. saw revenue jump to $5.5 billion in 2021 from $4.4 billion in 2020.
For the full story and more revenue reports, click here.
February 2022 CAB Case Summaries
These case summaries are prepared by Robert "Rocky" C. Rogers, a Partner at Moseley Marcinack Law Group LLP.
CARGO
Freightliner Custom Chassis Corp. v. Landstar Ranger, Inc., 2022 U.S. Dist. LEXIS 15256, C.A. No. 8:20-cv-1390 (N.D.N.Y. Jan. 27, 2022). Plaintiff/shipper manufactured five chassis for armored vehicles and contracted with Landstar to assist it in arranging for shipment of the manufactured chassis from South Carolina to Canada. Landstar contracted with a Canadian motor carrier to provide the transportation. The chassis were damaged when the motor carrier was involved in an accident in New York. Plaintiff/shipper brought claims for breach of contract and a Carmack claim against Landstar and motor carrier, and breach of bailment against the motor carrier and its driver. Landstar moved to dismiss the claims against it under Carmack and ICCTA preemption. The court ruled that at the pleading stage, Plaintiff/shipper had alleged sufficient facts that could make Landstar a freight forwarder subject to liability under the Carmack Amendment. However, the court noted discovery may ultimately show Landstar to be a broker, so it was premature to dismiss the state law causes of action against it under Carmack preemption. Even assuming Landstar was a broker, the court held the negligence and breach of contract causes of action were not preempted under ICCTA because Landstar's selection of the motor carrier was "sufficiently attenuated from the regulation of prices, routes, or services."
Zaitzeff v. Northeast Transp., Inc., 2022 U.S. Dist. 12354, C.A. No. 21-cv-326 (S.D.N.Y. Jan. 24, 2022). Pro se plaintiffs' claims for negligence and breach of implied covenant of good faith and fair dealing that sought damages for alleged failure of business resulting from damaged goods were dismissed at pleading stage as preempted by the Carmack Amendment and/or FAAAA. The court also held it lacked subject matter jurisdiction over the claims because the Complaint was devoid of any claim arising under federal law and there was a lack of complete diversity. The court also ruled the sole proprietors lacked standing to sue in their own name, as opposed to that of the corporation.
Martin v. DHL Express (USA), Inc., 2022 U.S. Dist. LEXIS 12070, C.A. No. 3:21-cv-13363 (D.N.J. Jan. 20, 2022). Plaintiff's class action complaint challenging DHL's $17 charge purportedly related to collection of duties on international shipments was dismissed at pleading stage. The court held the claim was preempted by FAAAA because the service charge "plainly related" to DHL's price, route, or service.
Peening Techs. Equip., LLC v. Northeast Riggers, Inc., 2022 Conn. Super. LEXIS 54 (Super. Ct. Conn. Jan. 10, 2022). In a triple-brokered situation, initial entity hired to perform the transportation implead third-party complaint causes of action for indemnification and breach of contract against another transportation intermediary who ultimately hired the motor carrier that delivered the equipment late and in a damaged condition. The court struck the indemnification claim as preempted by FAAAA because "the claim is aimed at the core of TQL's services, arranging for the movement of goods." The court did not strike the breach of contract claim, finding the third-party complaint sufficiently alleged that the third-party plaintiff was an intended third-party beneficiary under the contract between TQL and one of the other transportation intermediaries involved in the shipment.
Certain Underwriters at Lloyd's v. Expeditors Int'l of Wash., Inc., 2022 U.S. Dist. LEXIS 23677, C.A. No. 8:20-cv-00809 (C.D. Cal. Feb. 9, 2022). Transportation intermediary's motion for partial summary judgment seeking to enforce limitation of liability was denied. The agreement between the shipper and the transportation intermediary requested specific security measures be taken for the high-value load. It also contained a Carmack waiver. Noting that the parties had waived Carmack, the court was permitted to apply the "material deviation doctrine" to determine whether the contract of carriage, containing the limitation of liability, was void in toto. The court then found there were factual disputes regarding whether a material deviation occurred, which prevented summary judgment on the issue of the limitation of liability. The court did dismiss the breach of bailment claim, finding there was a lack of evidence demonstrating the elements for bailment under state law were met under the circumstances.
Inter Metals Grp. v. Centrans Marine Shipping, 2022 U.S. Dist. LEXIS 28747, C.A. No. 20-7424 (D.N.J. Feb. 17, 2022). Various players in international shipment of copper that went missing had their motion to dismiss Carmack claim denied because the Complaint alleged each acted as a carrier, which was sufficient to overcome a motion to dismiss. However, the court dismissed state law causes of action for negligence, unlawful interference with prospective economic advantage, conversion, common law fraud, and New Jersey Consumer Fraud Act claims as preempted by both Carmack and FAAAA.
Aspen American Ins. Co. v. Landstar Ranger, Inc., C.A. No. 3:21-cv-578 (M.D. Fla. Feb. 3, 2022). Freight broker's motion to dismiss negligence claim stemming from instance of cargo loss by an interstate motor carrier was granted. The plaintiff/shipper alleged through decisions made by the freight broker, plaintiff/shipper's load was given to a fraudulent motor carrier, was stolen, and never delivered to plaintiff/shipper's customer. The court agreed with freight broker that the negligence claim was preempted by FAAAA because it related to "transportation" and that the safety exception to FAAAA preemption was inapplicable.
BROKER
Gauthier v. Hard To Stop, LLC, 2022 U.S. Dist. LEXIS 20564, C.A. No. 6:20-cv-93 (S.D. Ga. Feb. 4, 2022). Freight broker prevailed on motion to dismiss seeking dismissal of negligence claim against it premised upon vicarious liability of the motor carrier driver or alternatively under a joint venture theory. Specifically, the court noted that the Complaint failed to allege that the freight broker exercised or had the right to exercise that level of control over the operations of the motor carrier/driver, which characterize an agency relationship. Likewise, the Complaint failed to plead sufficient, non-conclusory, facts to support a joint venture existed between the freight broker and the motor carrier/driver. The remaining negligent hiring and retention claim was dismissed as preempted by FAAAA, with the court specifically finding the "safety exception" did not apply because the alleged failure to properly vet the motor carrier were "too tenuously connected to motor vehicle safety" to fall within the exception.
AUTO
Lorenzo-Noda v. Kazak, 2022 U.S. Dist. LEXIS 14879, C.A. No. 18-13414 (D.N.J. Jan. 27, 2022). The court denied dueling summary judgment motions in a case involving a CMV on CMV accident, finding "the core of the factual record before the Court consists of the competing testimony of the two drivers involved in the collision . . . ." The court also rejected that the prior settlement of defendant's property damage claim against plaintiff's employer arising from the accident was competent evidence for consideration on summary judgment as to the share of negligence or what percentage of fault might be attributable to the plaintiff.
Njuguna v. C.R. Eng., Inc., 2022 U.S. Dist. LEXIS 14813, CIV-19-379 (W.D. Ok. Jan 27, 2022). A third-party defendant motor carrier was granted summary judgment against third-party plaintiff motor carriers' claims seeking indemnification and contribution stemming from a series of unrelated accidents occurring near each other during a winter storm. On the record before the court, the third-party defendant motor carrier was involved in a separate accident, several miles away from the at-issue chain reaction accident that resulted in the death of the plaintiff. Under Oklahoma's several liability statute, the court found dismissing the third-party defendant would not result in any of the remaining motor carriers paying more than their fair share of damages and therefore dismissal of the contribution claim was appropriate. The court dismissed the third-party claim for indemnification because: (1) there was no express indemnification agreement at issue; and (2) "there is simply no case law that establishes some sort of legal relationship requiring indemnity between two separate carriers involved in two separate accidents during a winter storm."
Walton v. Monceaux, 2022 U.S. Dist. LEXIS 14110, C.A. No. 4:19-cv-4968 (S.D. Tex. Jan. 10, 2022). Plaintiff's claims for direct negligence against motor carrier employer were dismissed when the motor carrier employer admitted to vicarious liability for its driver's action. The driver and the motor carrier were likewise entitled to summary judgment on Plaintiff's gross negligence claims because "Texas appellate courts have routinely held that a driver's negligence in not keeping a proper lookout for other vehicles on the road, without additional aggravating factors, does not rise to the level of gross negligence."
Ruh v. Metal Recycling Servs., 2022 U.S. App. LEXIS 2077, No. 20-1440 (4th Circ. Jan. 24, 2022). The Fourth Circuit certified to the South Carolina Supreme Court the following question: Under South Carolina law, can an employer be subject to liability for harm caused by the negligent selection of an independent contractor. In the case, a metal recycling company entered into a transportation contract with an independent contractor motor carrier who was involved in an accident with the plaintiff while transporting materials on behalf of the recycler. The plaintiff sued the driver, motor carrier, and recycler. Finding no South Carolina authority directly on point, the Fourth Circuit certified the question to the South Carolina Supreme Court.
Malone v. ASF Intermodal, LLC, 2022 Tenn. App. LEXIS 48, C.A. No. W2020-00430 (Tenn. Ct. App. Feb. 7, 2022). A Tennessee appellate court affirmed the jury's verdict in favor of accident victim in the amount of approximately $1,500,000. The court found while there was conflicting medical testimony on whether the plaintiff's alleged injuries, including alleged TBI and cognitive issues, were caused by the accident, the jury was free to believe some evidence and disregard the conflicting evidence.
Mackenzie v. C&B Logging, 2022 S.C. App. LEXIS 19, Op. No. 5893 (S.C. Ct. App. Feb. 9, 2022). The South Carolina Court of Appeals affirmed the trial court's exclusion of evidence of a CMV driver's prior charges and criminal convictions in a case alleging personal injuries from an MVA. The court noted that none of the convictions sought to be introduced involved operating a motor vehicle while under the influence of drugs or alcohol and the responding officer who investigated the accident had no reason to believe the driver was under the influence of drugs or alcohol at the time of the accident. The court explained "simply showing that [the driver] had a criminal record is not sufficient to admit the evidence without some showing that it was related to the ultimate issue in the case that is now on appeal—namely, whether [the motor carrier's] decision to hire and retain [the driver] justified an award of punitive damages to [the plaintiff]." Further, the court found that the prior convictions did not indicate the motor carrier employer showed a reckless disregard for the plaintiff's rights because they did not indicate an increased likelihood that the driver would not follow safety procedures. The court explained the probative value, if any, was outweighed by the prejudicial effect and therefore exclusion was appropriate. Last, the court rejected the plaintiff's argument that any crime of moral turpitude could be used to support a negligent hiring cause of action.
Litt v. Berkshire Hathaway Homestate Ins., 2022 U.S Dist. LEXIS 23767, C.A. No. 21-cv-1277 (W.D. La. Jan. 25, 2022). Tort plaintiff's claims for negligent hiring/training/entrustment against employer motor carrier and strict liability claim against motor carrier were dismissed for failure to state a claim. Noting some split within the jurisdiction, the court recommended dismissing the independent negligence causes of action against the employer where the employer admitted vicarious liability for the negligence of its employee driver. With respect to the "strict liability" cause of action, it alleged the motor carrier employer was responsible for any "vices or defects" of the tractor, but ultimately the court found the tort plaintiff offered no "non-speculative" support for this claim and therefore dismissal was granted.
Kirby v. Broken Skull Trucking Inc., 2022 U.S. Dist. LEXIS 23581, C.A. No. 21-1238 (Feb. 9, 2022). A trial court partially granted a motor carrier's motion to strike, seeking certain allegations pertaining to its driver's criminal history be stricken from the Complaint. Most of the allegations were permitted to remain as alleged, but the court ordered the plaintiff to amend its complaint to refer the driver's "prior convictions generally," rather than specifically referencing the convictions for abuse and assault, because the specifics of those convictions were immaterial to plaintiff's action.
Arceneaux v. Am. Trucking & Transp. Ins. Co. Risk Retention Grp., 2022 U.S. App. LEXIS 4368, C.A. No. 21-30196 (5th Cir. Feb. 17, 2022). Fifth Circuit affirmed lower court's dismissal of negligence action stemming from blowout of tractor-trailer tire that struck plaintiff's vehicle. The court explained the plaintiff failed to raise a genuine dispute of material fact as to whether the tire had a defect that presented an unreasonable risk of harm and did not offer any admissible evidence as to the cause of the tire failure. Further, even assuming plaintiff did raise a triable issue on the cause of the failure, she failed to raise genuine issue of fact as to whether defendant trucking company knew or should have known about the defect. Application of res ipsa loquitur was inappropriate under the facts of the case, including that plaintiff could not rule out another cause such an object in the road caused the tire blowout.
COVERAGE
Pena v. Viking Ins. Co., 2022 Ida. LEXIS 8, Dkt. No. 48379 (Idaho Feb. 1, 2022). The Supreme Court of Idaho held an insurer's minimum limits UIM policy provided illusory coverage.
Est. of Dojcinovic v. Citizens Ins. Co., 2022 U.S. Dist. LEXIS 18526, C.A. No. 20-12134 (E.D. Mich. Feb. 1, 2022). Two out of three insurers were able to avoid paying PIP benefits under Michigan's No-Fault Act. Plaintiff decedents were Michigan residents and were both killed when the tractor-trailer they were operating was involved in a crash in Illinois. Plaintiffs sought PIP benefits from the liability insurer for the motor carrier they had "leased on to," from their bobtail non-trucking liability policy, and under their personal lines auto liability policy. The motor carrier was based in Indiana and its commercial auto liability policy was issued to Indiana and written on Indiana forms. The motor carrier's commercial auto liability policy did not include optional PIP protection. The bobtail policy to the Plaintiffs' presumed company was issued in the State of Michigan and included Michigan PIP protection but contained an exclusion for PIP benefits when the tractor-trailer was "transporting cargo on behalf of any lessee." The Plaintiffs' personal lines policy was a Michigan no-fault auto policy and contained liability coverage including PIP benefits. The court ruled the motor carrier's commercial auto liability policy was not required to provide PIP benefits because they were not selected and the policy's out-of-state extension provision did not mandate provision of PIP benefits because the accident occurred in Illinois, which does not require no-fault benefits. As for the bobtail policy, the court found the plain language of the exclusion applied and that the exclusion was enforceable. Having ruled that neither of the other two insurers were required to provide PIP coverage, the Plaintiffs' personal lines policy was required to provide PIP coverage.
Great Divide Ins. Co. v. Linda Constr., Inc., 2022 U.S. Dist. LEXIS 18326, C.A. No. 19-cv-621 (N.D. Ill. Feb. 1, 2022). Commercial auto liability insurer was held to have no duty to defend owners of a company that was the named insured under the policy against a state court lawsuit for nonpayment brought by the lienholder on various CMVs that mysteriously vanished before they could be repossessed. The court found the owners of the company did not qualify as "an insured" under the policy terms and that the type of claims alleged against the owners in the state court action were not the type of "covered claims" under the commercial auto liability policy.
Bennett v. Progressive Specialty Ins. Co., 2022 U.S. Dist. LEXIS 23994, C.A. No. 2:20-cv-987 (M.D. Ala. Feb. 10, 2022). Commercial insurer granted judgment on the pleadings in tort plaintiff's declaratory judgment action seeking to reform a commercial auto liability policy to include an MCS 90 endorsement and seeking declaration that the MCS 90 endorsement applied to the plaintiff's accident involving a CMV. The commercial insurer and the tort plaintiff had previously litigated, in a separate declaratory judgment action, whether there was coverage under the commercial auto liability policy, with the court ultimately determining the insurer had no duty to defend or indemnify and no duty to pay any judgment on behalf any individual or entity in connection with the accident. In the prior action, the tort plaintiff learned through discovery that the policy did not contain an MCS 90 endorsement. Nevertheless, the tort plaintiff did not oppose the insurer's summary judgment motion in the prior declaratory judgment action. The court, in the second declaratory judgment action, held tort plaintiff was precluded under res judicata principles from re-litigating the issues involving the MCS 90 endorsement, which had at least been raised by tort plaintiff's responsive pleading in the first declaratory judgment action. Moreover, even assuming the tort plaintiff had not previously raised the MCS 90 issue in the first declaratory judgment action, the court held he could have, and therefore res judicata principles applied to prevent him from re-litigating that issue.
Quinn v. Travelers Indem. Co., 2022 Ark. App. 67, No. CV-21-1 (Ark. Ct. App. Feb. 9, 2022). Arkansas appellate court affirmed summary judgment in favor of insurer. Travelers issued a commercial auto liability policy to Deltic Timber Corp. Deltic, in turn, entered into a timber cutting and hauling agreement with J.W. Hendrix Logging. Under the Agreement, Hendrix Logging was to cut and remove timber from land owned by Deltic and deliver the harvested timber to Deltic's mill. Hendrix Logging was to provide the equipment needed to transport the cut timber and was required to have insurance in place for said equipment. The Agreement specified Hendrix Logging was an independent contractor. While transporting a load of logs to the mill, a Hendrix Logging truck was involved in a fatal accident. A tort plaintiff sought coverage for Hendrix Logging and its driver under the Travelers policy issued to Deltic. The court rejected the plaintiff's argument that language in the "Who Is An Insured" provision, stating "anyone else while using with your permission a covered auto you own, hire, or borrow" extended coverage to Hendrix Logging or its driver. The court held the facts surrounding the Agreement and relation between Hendrix Logging and Deltic indicated the subject vehicle was not a "hired auto" under the Travelers policy.
United Specialty Ins. Co. v. Sethmar Transp., Inc., 2022 U.S. Dist. LEXIS 20580, C.A. No. 20-cv-02234 (D. Kan. Feb. 3, 2022). CGL insurer granted summary judgment that its policy did not require it to defend or indemnify the named inured freight broker for an off-premises motor vehicle accident. The freight broker was sued in West Virginia state court alleging it was liable for an MVA that resulted in tort plaintiff's death. The freight broker, in turn, tendered to the suit to the CGL insurance and demanded coverage and indemnification. The only policy provision or exclusion at issue was the "Limitation of Coverage to Specified Premises Only (Specified Premises Endorsement)" endorsement. The court held the endorsement was clear, unambiguous, and limited coverage to the freight broker's specified office location. Further, it rejected the freight broker's attempts to argue this construction rendered the coverage illusory.
IMed Equip., LLC v. Pharmacists Mut. Ins. Co., 2022 U.S. Dist. LEXIS 21337, C.A. No. 2:20-cv-683 (N.D. Ala. Feb. 7, 2022). Insurer granted summary judgment in case seeking coverage under Business Owner's Policy and Inland Marine Floater for lost inventory. The policy contained exclusions for losses involving missing property where the only proof of loss is "unexplained or mysterious disappearance of covered property, or shortage discovered upon taking inventory, or any other instance where there is no physical evidence to show what happened to the property." The insured discovered the missing inventory during a routine inventory check. The court enforced the exclusions, finding they were unambiguous and susceptible of only one construction.
Ellis v. Geico Gen. Ins. Co., 2022 U.S. App. LEXIS 4180, C.A. No. 21-12159 (11th Cir. Feb. 15, 2022). Personal lines auto insurer's grant of summary judgment in bad faith action affirmed on appeal. Shortly after receiving notice of the claim from plaintiff's counsel, the insurer attempted to reach its named insured and opposing counsel by phone, but such attempts were unsuccessful. The insurer issued a "first contact letter" and reservation of rights to its named insured. After unsuccessful attempts to reach the named insured, the insurer hired a private investigator to assist in locating him. Other attempts to reach the named insured by phone were likewise unsuccessful. The investigator attempted to locate the named insured at his last known address and place of employment, but these efforts were also unsuccessful. The insurer issued an updated reservation of rights notification to the named insured, explaining his delay in reporting the loss may prejudice the insurer's investigation of the claim. Approximately six weeks after the accident, the insurer was able to obtain a copy of the accident report, which confirmed involvement of the named insured's auto. Following receipt of the accident report, the insurer changed the allocation of fault in its system to 100% against the named insured and dispatched the investigator to hand deliver a check to plaintiff's counsel for the full policy limits along with an accompanying release. The insurer sent another letter to the named insured advising of the possibility of a judgment in excess of the policy limits, his right to hire his own counsel, and that the insurer would provide him a defense if suit was filed. The plaintiff's counsel rejected the insurer's tender of policy limits as untimely, claiming the insurer delayed in investigating the claim and should have done more to contact the named insured and obtain the accident report sooner. Under these facts, the appellate court agreed with the trial court that no reasonable juror could conclude the insurer operated in bad faith given the totality of the circumstances.
Ballentine Express Corp. v. EAN Holdings, LLC, 2022 U.S. Dist. LEXIS 28777, C.A. No. 2:21-cv-02242 (W.D. Tenn. Feb. 17, 2022). Trucking company entered into master lease agreement with Enterprise for rental of commercial vehicles for use in its trucking business. Enterprise offered insurance liability protection in connection with the rentals, which trucking company purchased. Trucking company alleged when it rented a vehicle, Enterprise knew the trucking company was going to use it in connection with its interstate motor carrier operations. The trucking company was sued for over $2,000,000 in connection with an accident involving one of the rented trucks. The trucking company sued Enterprise, claiming Enterprise operated in the role as an insurer and therefore had a duty to provide liability protection conforming to state and federal law (minimum limits of $750,000 and MCS 90). The court rejected this argument, holding that nothing in either the Motor Carrier Act ("MCA") or FMCSRs impose upon an insurer any obligation to make sure motor carriers obtain conforming coverage, rather the burden is upon the motor carrier to procure the necessary coverage. However, the court explained this holding does not prevent an insurer from agreeing to provide a motor carrier with coverage conforming to the requirements under the MCA and FMCSRs. Such a question will be determined on each case's facts. In this specific situation, the court found there was a fact issue as to whether Enterprise had contractually agreed to take on this obligation and therefore its motion for summary judgment on this ground was denied.
Auto-Owners Ins. Co. v. Goff, 2022 U.S. Dist. LEXIS 28519, C.A. No. 3:20-cv-106 (M.D. Ga. Feb. 17, 2022). Auto-Owners issued a CGL and inland marine policy to Kyle Goff dba Goff Moving Services, LLC. Goff was sued after the moving company allegedly lost, stole, or damaged various household goods it had been tasked with moving for homeowners. The homeowners filed suit, which Goff failed to notify Auto-Owners of until approximately sixteen months after the lawsuit was filed and approximately six months after Goff gave deposition testimony in the suit. Auto-Owners immediately issued reservation of rights notifications to the named insured and retained defense counsel to represent the named insured subject to the reservation of rights. Auto-Owners then filed a separate declaratory judgment action asking that the court rule it had no duty to provide coverage in connection with the loss because of Goff's failure to timely notify Auto-Owners of the occurrence or the underlying lawsuit. The trial court agreed with Auto-Owners and ruled that the failure to time report the claim and lawsuit to the insurer was "without excuse." Accordingly, Auto-Owners had no duty to defend or indemnify in connection with the loss or the lawsuit.
WORKERS COMPENSATION
Matter of Powers v. State Material Mason Supply, 2022 N.Y. App. LEXIS 938, C.A. No. 533583 (N.Y. Sup. Ct. Feb. 10, 2022). New York appellate court affirmed Workers Compensation Board's denial of workers compensation benefits to truck driver where claimant's attorney sent ex parte communication to claimant's treating physician, which in the Court's view, undermined the credibility of the claimant's treating physician.